Skyfall, a family-size super yacht?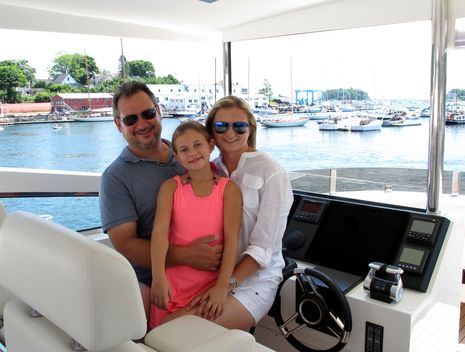 This picture of the Levey family is very similar to one which was published years ago in an article called Early Adopter that I'm still proud of. It was an unusual story because at first I didn't want to write it. When I met Mark and Natalia in 2007 they were very early adopters of a snazzy nav system that was behaving quite badly, and frankly I was reluctant to cover what seemed like a possible accident about to happen (and, besides, writing about gear that doesn't work very well is not what enthusiast magazines are about). But when they motored Alexis — an Azimut 55 named for their daughter — into Camden a year later, the Simrad Glass Bridge 60 was working better and, more important, I realized that this couple epitomized an early adaptor attitude that works, even on a big boat. They like new technology for sure, but they know it doesn't always perform as advertised and they don't let that get in the way of their boating safety and enjoyment. I hope you'll check out the article before taking a peek at the Levey's new boat…
Skyfall is hull #2 of the Lazara Breeze 76 series and was built in Tampa, FL, near the Levey's home. The yacht got highly customized and, yes, some early adoption took place. For instance, if you check out the Breeze 76 specs you'll see it's designed for triple 600hp Cummins diesels driving triple computer-controlled Zeus pods — which is pretty darn unusual in itself — but Skyfall has twin 1,200hp MANs driving ZF's new 4000 Pods. Mark says that they still have great maneuverability, and more speed than the standard Breeze 76 (31 knots WOT!), but they did have numerous visits from ZF technicians as they worked their way north.
While Skyfall is loaded with other interesting systems like E-Plex distributed power (which survived despite the rumors) and ISIS monitoring, my first pass was largely about fun stuff, and style. This boat feels amazingly comfortable and that seems partially about all the light satiny surfaces and abundance of natural light but also about how all well all the gadgetry is organized…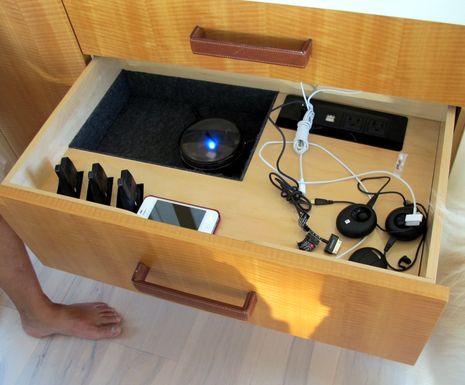 For instance, there's not just one drawer carefully set up for charging and/or connecting various handheld devices but several. And check out the hotel-style pop-up power/USB/Ethernet fitting Mark had built into his desk.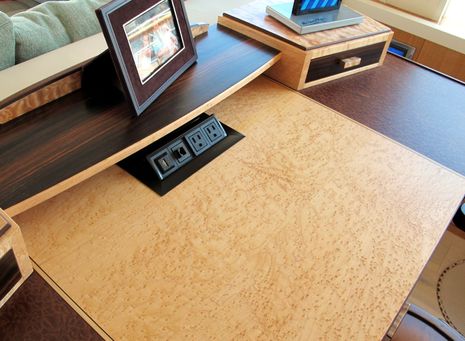 Skyfall also has many video screens, speaker systems, and possible AV sources all cross connected through an 8×8 HDMI switching system so that different spaces can enjoy and control different devices. Plus the boat has a DirectTV Whole-Home DVR distributing HD TV everywhere and each space has an audio level control that can also serve as an iPod dock. At any rate, the big Geffen HDMI switch is labeled and accessible as seen below, but Mark is working on a better way to control it and other aspects of the overall system…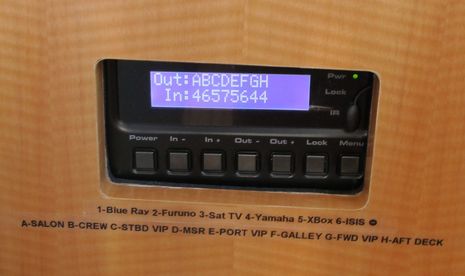 It's not quite done yet, and it won't be a commercial product, but what you see below is a custom AV control app that even an eight-year-old can run. Mark had quite a system on the earlier yacht, too, which I wrote about here.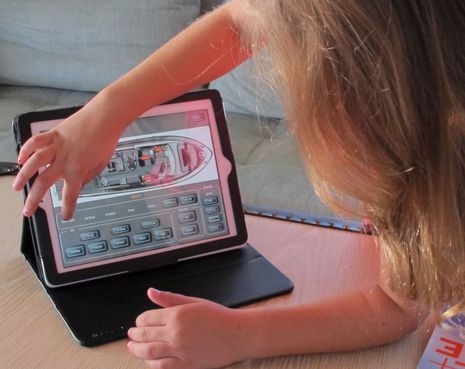 Mark is also a fan of Fusion Marine Audio and has an IP600 installed in Skyfall's eye-catching 13-foot tender. While it looks very custom, this jet boat is now available from Carbon Craft, a company he started with a friend. Note that it also has a Garmin 740 MFD, and there's another 740 on the mother ship's flying bridge serving as a totally independent nav backup…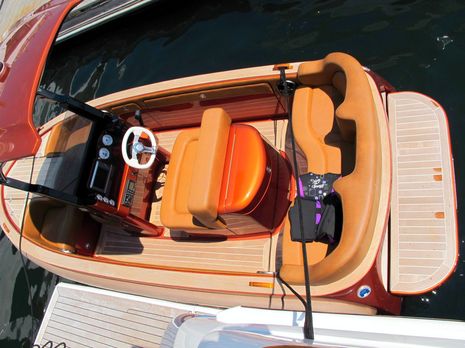 That reminded of how the Levey team often had to use a handheld Garmin while their first yacht's snazzy nav system suffered growing pains. They were more conservative in that department on Skyhook, which sports twin Furuno NavNet 3D BB systems. But they seemed interested in learning more about Furuno's new TZTouch series — which will eventually have a black box model — especially as those twin KEP displays (seen at top) will soon be replaced with multi-touch models. (Note that the first TZT install I know about is having growing pains too, though not major ones.) With the bigger boat they also appreciate the help of a hired hand, but there's no question that Mark and Natalia can run this big beauty themselves, and truly enjoy doing so.