SPOT gone mega, and FLIBS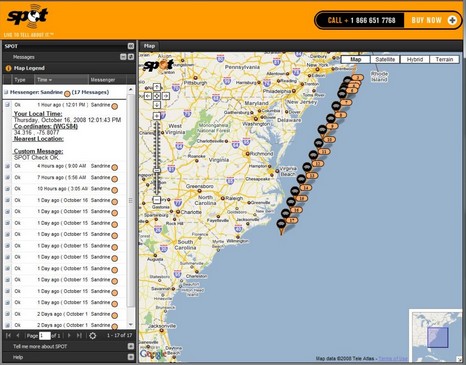 Check out the full screen shot for a modern take on the noon position. The world's largest NMEA 2000 network, i.e. the yacht Sandrine, is experimenting with a Spot Messenger while on passage to Fort Lauderdale. Instead of using Spot's tracking feature, like Flash of Beauty did, Captain Jay Kimmal (below) is using Spot's OK message to send an email/text to friends and family every three hours, and the messages are also collected on Sandrine's share page above. The cost, of course, is trivial on a yacht like this, but Kimmal may have had to put the messenger on deck somewhere to get a consistently functional sky view. Wouldn't it be nice for boaters if Spot II had a bracket and ports for an external antenna and power feed?
I know nothing about future Spot developments, but do think the current model is a bit awkward on boats, particularly bigger ones. I just passed my second Spot sample unit to Panbot Russ Irwin, hoping he'll show us his tracks as he wanders off on New Morning, but I don't think he's found a good home on deck for it or the time to figure it out (please encourage him!).
Sandrine, by the way, will be amongst the Hargrave fleet showing at the Fort Lauderdale show. But if you want an informed tour of its Octoplex system, I'm told it's best to first check in at the Moritz/Maretron booth. Which electronics aficionados will want to visit anyway, as Maretron is introducing some really interesting NMEA 2000 products, evidenced in its 2009 Catalog, downloadable here. I don't know a better place to see where N2K is headed.
As I write I can see via Spot (which, Navagear reminds us, is not a PLB) that Sandrine had Wilmington, NC, on her starboard beam at 9 pm, a few minutes ago. Tomorrow she might turn up on the SiiTech AIS Viewer. Capt. Kimmal, by the way, had some good ideas about extended AIS usage. He wants his charting program to allow him optional longterm target tracking so he can use it to monitor how well nearby vessels are swinging to their anchors in a blow and also to follow friendlies on tricky passages like the Bahamas Banks.