SSB backstay antenna, a new way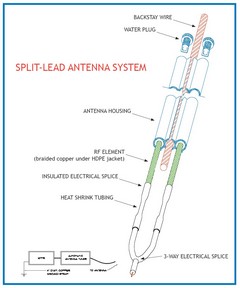 I've never much liked the practice of inserting insulators in a sailboat's backstay to create an SSB antenna; I want my backstays in one piece, thank you. Thus the Gam/McKim Split Lead Single Side Band Antenna looks like a much more sensible idea. The new design (bigger drawing here) fits over the stay, is easy to install or remove, and promises better performance with less likelihood of corrosion. Plus it's "priced to compete with conventional backstay insulators (including swaging costs)". Nice.
PS, 7/18: Rumor has it that Sail SSB expert Gordon West tested this antenna and found that it worked as well as an insulated backstay, even when fitted over the grounded stay of a steel boat. I've also seen reports that it many cases (depends on wire fittings) it is actually less expensive than the traditional insulator set up. Very nice!