Standard Horizon CPN Series, the first Internet MFDs?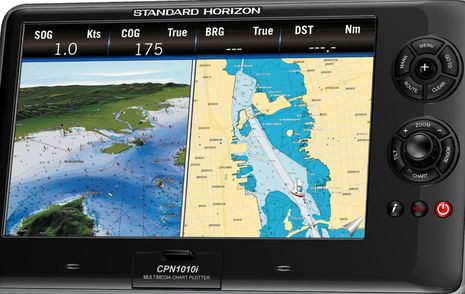 At first glance Standard Horizon's new CPN may look like a fairly standard multifunction display, but note the "turn page" screen graphic at lower right, the small (but purportedly powerful sounding) stereo speakers, and the "Multimedia Chart Plotter" designation. The 7- and 10-inch CPNs have touch screens not only to help manage charting, optional radar, and so forth but also to select audio and video entertainment stored on front or back connected USB sources, or streaming over WiFi. And, yes, there is a Web browser in there too!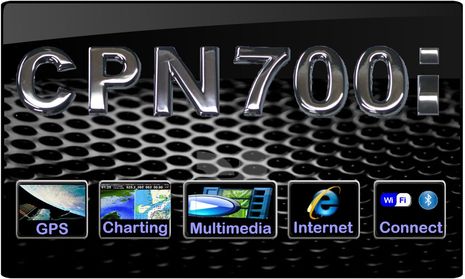 In fact, I think what we're seeing here are the first MFDs that are also capable Internet appliances. For instance, they have Bluetooth so you can use a wireless keyboard and/or mouse instead of the touch screen to manage email. And there's even a bit of integration between the nav and web abilities: Apparently weather data from Baron's new QuikLink internet service — which looked great in a demo I saw in Fort Lauderdale — can overlay on a CPN's charts.
The $1,500 CPN700i and $2,300 CPN1010i can also work with an optional XM Satellite Weather receiver (which delivers Baron data too), and they have a few other big system features that Standard hasn't offered before. The Ethernet port seen in the 700i connection diagram below, for example, can also network to a second CPN. And, look, there's a NMEA 2000 port. But that port isn't even mentioned in the initial CPN spec sheet because in fact it won't be functional until a software revision planned for mid summer. The company also cautioned me that the screen shots seen above and below are prototypes, and may change…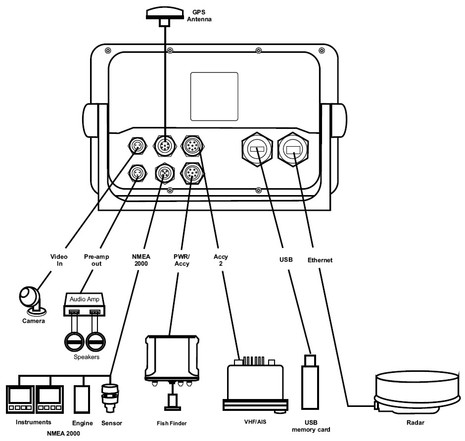 Overall, it seems like Standard Horizon is trying hard not to over hype this unique design, and that may be largely because they're still learning what it can and can not do themselves. After all, this is not a full fledged PC with a lot of extra memory and drive space. According to product manager Scott Iverson it may even turn out that Web browsing will only be possible when the machine is not in navigation mode (though I don't think many boaters would find that a major restriction).
I appreciate Standard's caution and think we should be careful with our expectations, but isn't the CPN Series an interesting development? For the specs and description as revealed so far you can download the whole 2011 products announcement here (595 KB). Tell us what you think, please.