Steve Jobs, listen up!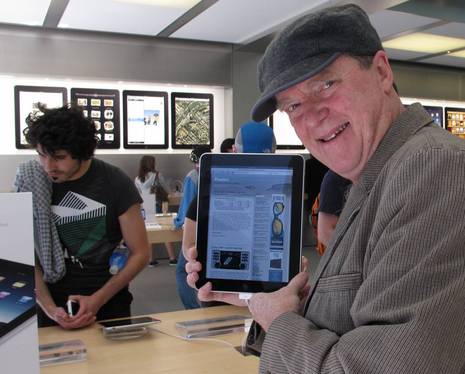 Honest, it was purely coincidental that I booked a hotel room in Boston that's three blocks from an Apple mega store. But, sure, we checked out the iPad opening day phenomenon, and the scene was actually impressive. Out on the sidewalk, happy new owners showed them off to friends and the media, while others waited in lines to pick up preordered units or to place orders. Inside iPad classes were underway and images of new iPad apps lined all three floors. Most important, there were lots of iPads online, loaded with apps, and easy to try out as long as you wanted, and they are nifty (as you can read in umpteen places). But the abundant and generally well informed staff were not able to answer my main question, which, in fact, has become my to-buy-or-not-buy line in the sand…

Will the iPad work with my existing Bluetooth keyboard and GPS receiver, both of which use standard Bluetooth profiles and work with many devices? It's not just that I already own both items and that they would both make the iPad much more useful for me. (My wife and I both found the iPad touch keyboard pretty difficult, by the way.) But my line in the sand is also about principles. While I've come to appreciate the fact that Apple's over arching product control can create a wonderful user experience and even a wildly creative third party development environment, this tightness regarding Bluetooth devices — already seen with the iPhone and iPod Touch — seems like greed.
Then again, some of my principles are subject to change! And some of the boating apps rebuilt or built for the iPad — like
iNavX
and
Navimatics
seen below,
InteliSea
,
Active Captain
, etc — are going to fly, I think. Everyone at the table where we were trying them agreed that the iPad is fast, regardless of which app they were in. At any rate, let's discuss, and if anyone finds out more about iPad Bluetooth abilities, please let me know. Also, my column on the possibilities of iPads aboard is
now up at
Yachtin
g
.