TackTick, on the yardarm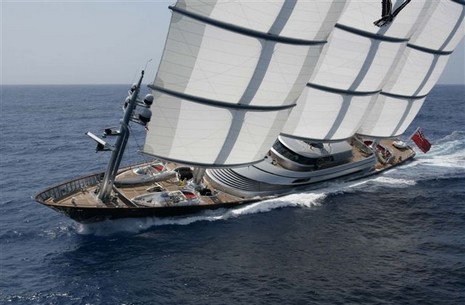 Who isn't fascinated by the Maltese Falcon, the 289', $100,000,000 yacht that sails under a very unusual DynaRig, actually three rotating carbon fiber masts carrying fifteen automated square sails on carbon yards? I did get to see a phenomenal 18" model of the Falcon (built by Rob Eddy, another local gem), but I would so like to get a sail aboard this vessel, or least a glimpse at what the electronics its very techy owner Tom Perkins chose for her. I do know that Tacktick is quite proud that its Micronet wireless wind sensors were used to help test the rig during construction in Turkey. And today, which happens to be the Queen's birthday, the company won the Queen's Award in the Innovation category. A tip of the crown, then, to Tacktick. I'm pleased to report that I'm going to test a Micronet wind, depth, and speed system on my Rhodes 18 this summer, and that today is finally warm enough to think about boating.
PS: Speaking of Queens, check out this time-lapse video of the Queen Mary II visiting San Francisco. This site, BoatingSF, also has an interesting newsletter on AIS.