TBF: Torqeedo Hybrid, transparent displays, DY Aqua Compact PC, Volvo screen repair & more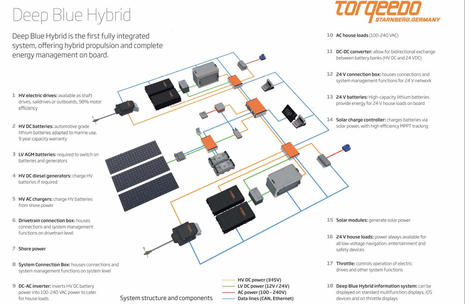 Let's begin 2016 TidBit Fridays with Torqeedo Deep Blue Hybrid, a new system I'd like to know a lot more about. It seems to be the most fully integrated electric propulsion and power management system yet, by far, and two independent gentlemen who know a lot more about these technologies than I do feel that Torqeedo has done a great job here. And it's not just for sailing catamarans 40 to 80 feet; Nimbus 365 Coupé Cruisers are being built with twin 80hp equivalent electric inboard motors and the Deep Blue components seem to lend themselves to many configurations. I'll know more very soon…
Electric & Hybrid Marine Expo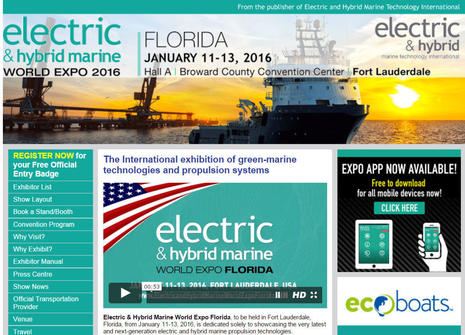 Next week I'll be attending the Electric and Hybrid Marine Expo in Fort Lauderdale, the first ever in the U.S. A lot of the exhibiting companies are aimed commercial — because high service vessels are where the high upfront costs of electric propulsion currently make the most sense — but Torqeedo and several other companies more targeted to the recreational market will be there. Please let me know if you see something I should look into.
Panasonic transparent display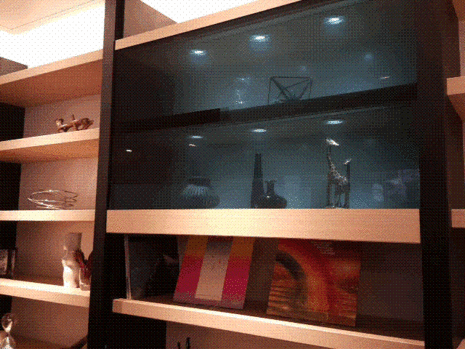 Speaking of possible future recreational boats, how about a large main cabin side window that could also be a big screen entertainment center? Or how about a pilothouse window that could display critical data and/or alarms in one corner, or even show you a big planning chart when you weren't underway? The Verge checked out Panasonic's prototype transparent display at CES and it sure looks intriguing. I haven't had much chance yet to check out this year's show, particularly the CES Innovations Awards, but I know that some of the major marine electronics companies send representatives from their R&D departments.
Digital Yacht Aqua Pro Compact PC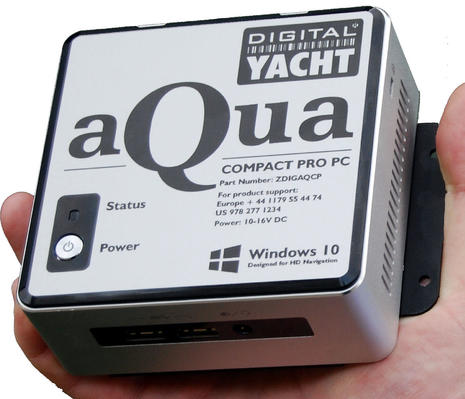 If I were setting up, say, Nobletec/MaxSea TimeZero charting software to run on a big (transparent?) display, I'd consider the new Digital Yacht Aqua Compact Pro PC I saw previewed at METS. It's specifically designed for the task, with lots of computational power and connectivity, plus 160 gigabytes of solid state memory, all running quietly in a small box on 12 to 16 DC volts.
Burnt Screen Services (BSS)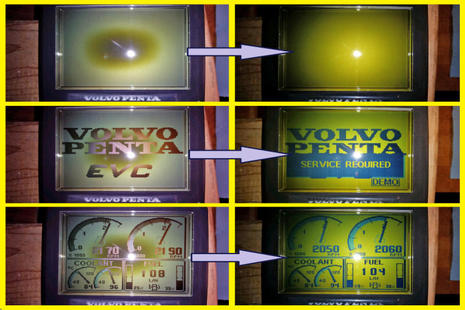 But, alas, we don't get to change our electronics that often, and sometimes the more vexing issue is perfectly good gear that fails. For a couple of years there's been the disturbing thread on the Panbo forum about burned out Volvo Penta EVC engine monitoring screens and the extremely high replacement expense. Well, happy day, the discussion eventually turned to a gentleman named Heinz Wahl who can apparently repair the screens at a relatively low cost (usually $500). Now he's set up Burn Screen Services with a good website and I believe he's going to make some boaters happy. (By the way, I love seeing the Forum work like this.)
Furuno radome durability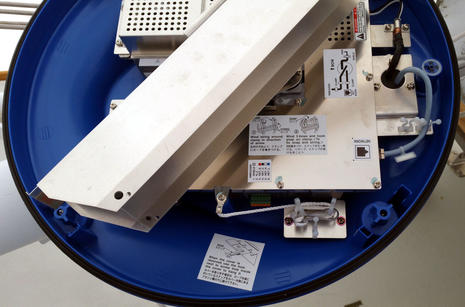 Speaking of durability, click on the photo above for more detail of what a Furuno DRS2D radome looks like after seven years of service on Gizmo. It was exposed to the weather a large portion of that time, and while the (never cleaned or polished) cover is slightly chalked, there is no sign whatsoever of corrosion inside. In fact, that soft black gasket feels new. Note the quality cable management and how Furuno even provides a way to secure the cover if this radar ever did require onboard repair. This is the last to be returned of the 18-inch radomes tested in 2009 — not that any of them failed — and one I once characterized as punching above its weight. But Furuno has a couple of new radars in this size range (like here and here), with maybe more coming, and Raymarine's new Quantum already means that 2016 is going to be big for Panbo radar testing.
And speaking of Panbo testing — and my penchant for oversharing about the indignities of old age — let me close with a photo of my sad left hand! Taken early on the morning of December 23rd, I am stretching my fingers out as much as I can, but the fingertip dots are about the Dupuytren's contracture surgery about to happen. I could only half touch type by this point and only get one glove on. The current "after" photo would be gross — picture 40 stitches, not very close together — but I think my hand will soon work better than it has in 15 years (which included four other Dupuytren's procedures). So while I may be using Dragon speech recognition software to "write" this, I'm prepping for an active year in marine electronics. I'll discuss more about Panbo 2016 soon, but for now how about a big hand for all the advertisers who have continued support this site in new year.