The Apple thingy, great for boats?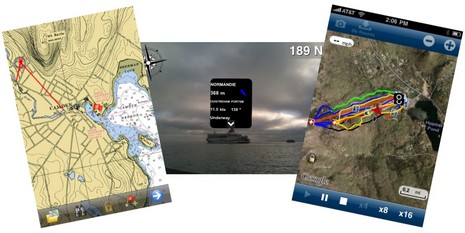 The tidal wave of interesting iPhone boating apps rolls on! The screen at left above (click for bigger) shows a beta version of Memory Map's upcoming charting app and I can tell you that it already handles NOAA raster charts and topo maps with speed and smoothness I didn't think possible on plain 3G hardware. At middle is the brand new Ships Ahoy!, a $3 AR (augmented reality) relative to Ship Finder and the other AIS viewers that lets you just point an iPhone 3Gs (you need the compass) toward a vessel or two to get their names and details (if the area is covered by a network receiver). And finally there's Navionics' neat new Ski:US, which admittedly has nothing to do with boats but does speak to this big marine company's big commitment to mobile apps. It happens to have my local Camden Snow Bowl among the so-far-limited ski area coverage, and it works great. In that screen shot I'm playing back the tracks (in yellow) I cut right after last week's big snow dump, in particular the — MPH moment I lost board control in a huge drift. All these possibilities, and lord knows what else, will expand if Apple introduces a 4.0 version of the iPhone operating system this afternoon. But of course the bigger questions swirl around the Apple tablet, or whatever they decide to call it…

Some pundit joked that a tablet hasn't caused such a stir since Moses brought one down from the mountain, and I too am at the stage of enjoying the mockery — like this puppet Mossberg review — as much as the breathless wall-to-wall coverage. But, geez, isn't it very likely that this thing will have tremendous potential on boats? Heck, I already use the iPhone a fair bit for reading, checking email, moderating Panbo quotes, and even watching video podcasts and the like. And nowhere is it more valuable for functions like that than when I'm off cruising on Gizmo. Which is also where a 10″ screen would be almost entirely a plus, and where a need for regular charging wouldn't be much hassle.
Now some apps, like Ski:US, are much more appropriate for a handheld device, but won't the charting programs like Memory-Map, iNavX, Navionics Mobile, Navimatics, etc. blossom on bigger screens? Along with online and/or browser related activities like AIS viewers, ActiveCaptain, weather radar, boating magazines etc. etc.? Plus won't all this activity — I think the gross sales of iPhone apps in their first year exceeded the entire marine electronics industry! — quicken the competition from Google, Microsoft, HP, Dell, etc. etc.? Below, for instance, is a screen from a beta version of EarthNC running on a Droid apps phone (note that earthnc/mobile.com already works pretty well on the iPhone).
At any rate, I challenged EarthNC to show us some mockups of what their app might look like on a Google Android tablet, and I extend that challenge to anyone developing marine apps for the new tablet platforms. At minimum I can post them here on Panbo, and they might just appear in a Yachting column I'm about to write about tablet possibilities. Meanwhile, I'm just about to take in the Apple press conference, probably via live blogs at Gizmodo or Endgadget. I'll put my impressions in the comments section, and hope you will too.