TorqTrac: Torqeedo electric outboards get app monitoring & more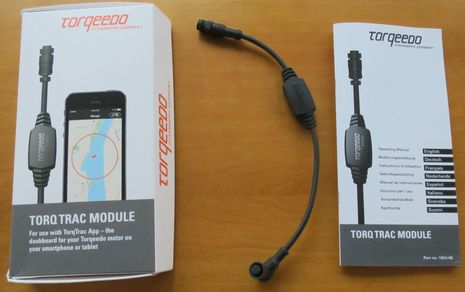 I declared my love for the Torqeedo 1003 electric outboard in 2011 and the feeling only deepened after two seasons of long testing, despite a glitch or two. Well, wow, the same motor has run like a top ever since, and as of a few days ago, it has a very cool accessory. The TorqTrac Bluetooth module and apps were announced some time ago, but apparently the $149 kit is only becoming available now. The version 1.0 app does not look like what was originally announced, or even what's shown at Torqeedo USA right now, but my first underway tests suggest that TorqTrac is going to add some nice spice and utility to my Torqeedo 1003 relationship…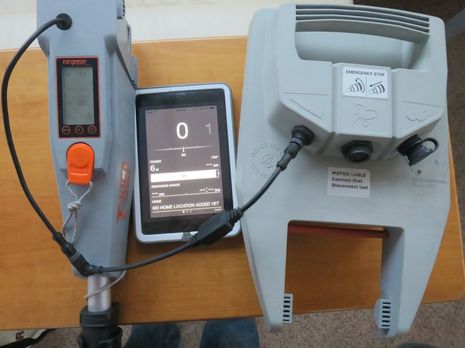 First I did a dry run in Gizmo's salon. It's always been possible to connect the tiller to the battery to see its state of charge, but I was pleasantly surprised that the TorqTrac app found the Bluetooth module without any pairing hassle whatsoever. It just worked and has every time since. This may be because the wireless module uses Bluetooth 4.0, which may also be why TorqTrac for Android isn't compatible with my three-year-old Samsung Galaxy Phone. Note that the photo, even if you click it bigger, makes the tiller screen look harder to read than it really is. In fact, during some sunny testing conditions the tiller LCD was easier to see than my oldish iPad Mini. But the tiller screen is often not where I want it to be. While it's fine if I have passengers and am sitting on the tender's aft seat, I often drive solo with an extension tiller (seen here).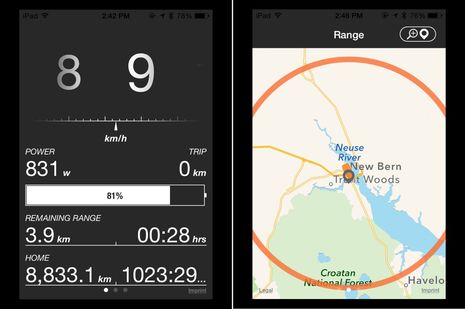 So, while most of the data on the left-hand iPad screen above is already on the tiller display, my first TorqTrac run was also the first time I got to see that the wide open 1003 throttle can push my latest tender at 8.6 km/h or 4.6 knots (which seems pretty good for a decidedly non-planing 9-foot Fatty Knees that's 4.5 feet wide). If I had stepped back to the tiller at that speed, it would have knocked the boat way out of trim, or worse. It's also nice to see the live battery range shown as a graphic circle on a map, though a chart would be better, and the device must be online to get these maps. The distance and time to Home is another unique TorqTrac feature, though I obviously hadn't figured out how to use it during test #1.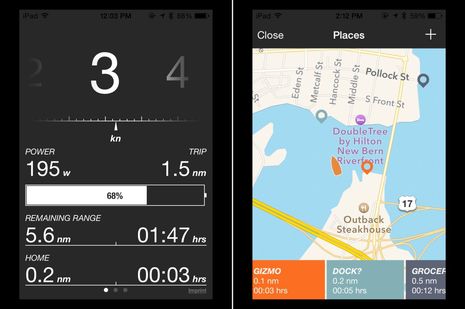 In fact, I did a lot of "testing" during the recent balmy days here in New Bern, North Carolina. I learned that simply tapping on the units of speed/distance cycles through km, m, and nm. And one tap into the Range screen makes the map zoomable and lets you long tap waypoints, one of which can be designated as Home. This feature could be useful for kids or guests using the tender, and I wonder how long it will be before a drunken sailor uses this feature to find his boat at night in a crowded anchorage. Note how much lower the power draw is at just over 3 knots and how much the range increased even though the battery is down from test 1. I've never felt the need for a second battery and I generally use the boat many times between charges.
Apple iOS TorqTrac is like the Android version and the third main screen you can swipe to lets you start and stop tracking, which could also be useful for harbor navigation, not to mention electric-quiet gunkholing. But it took me a while to figure out that it uses the mobile device's GPS instead of the one built into the Torqeedo tiller. Maybe that has something to do with the long time it took to get the app through the Apple approval process. At any rate, once I fired up the Bad Elf Pro, the tracking got very accurate.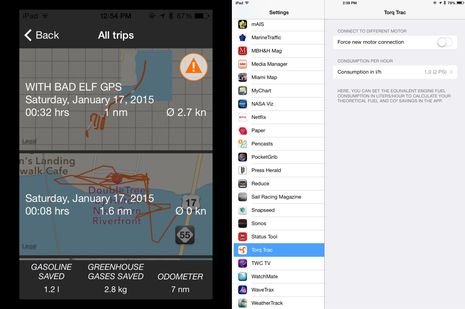 The lower window on that All Trips page shows the crazy tracking the iPad did when just connected to my phone's WiFi (for the map downloading). Yes, I ended up using three wireless devices plus the TorqTrac module for this testing and was impressed that they all got along, but a user with a compatible Android or iPhone won't have any of these issues as the phone has its own GPS and is probably online. So many current Torqeedo owners will find TorqTrac very easy to set up and use, and probably very desirable. And I imagine that Torqeedo will start building the Bluetooth right into the tillers soon, plus perhaps the controls for their ever larger systems (Deep Blue Hybrid is on its way).
Here's a look at the test tender, which may deserve the name Gadget. That is a Vexilar Sonar Phone T-Box transducer attached to a board that's about to be clamped to the transom, and I did indeed use it with the Navionics Boating live SonarChart feature. It all worked fantastically well, but there are some data interpretation issues to iron out, and I'll be writing about all that soon.