Ultrasonic Weather Wars, w/ Raymarine as Switzerland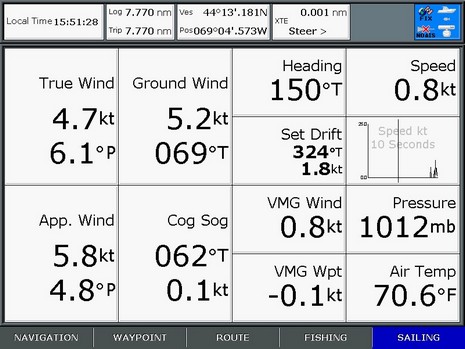 This example will be less funky once I get this whole test rig on the water, but still that's an impressive screen shot. All that data is coming from, or calculated using, the NMEA 2000 output of Maretron's weather station, compass, GPS, and water speed/depth sensor. The simulated 'boat' is underway but almost standing still (SOG = 0.1 kt) though there's 0.8 kt of water going by the hull (me flicking the paddle wheel). True Wind then—sometimes called True Relative to Boat—is Apparent adjusted for Speed Through Water and Heading, and Ground Wind (sometimes called True!) is Apparent adjusted for COG/SOG. (A more thorough discussion of True Wind might be in order).
And—yes, contrary to yesterday's post—there's Barometric Pressure and Air Temp from the WSO100. It turned out that the E Series doesn't recognize the standard NMEA 2000 "Environmental" PGN, but will display an alternate PGN that can be turned on in the WSO. This sounds like the screwy stuff that happens with NMEA 0183, and sure enough the E also has an issue with the 0183 "Environmental" sentence, which apparently is marked "do not use" in the NMEA handbook. But Airmar says it's the only message available for pressure, temp, and relative humidity.
At any rate, the data on the screen below is all coming from Airmar's all-in-one ultrasonic weather station (and will be joined by pressure, etc. when Raymarine does another code release). True Wind and Set/Drift aren't calculated because there is no source of Boat Speed, though that would be easy by wiring a speed/depth Smart Sensor into the Weather Station's Combiner box (multiplexer). Some other day I'll discuss comparative accuracy, value, etc., but for now I think it's impressive that the E Series (and C) can interface with both these super sensor systems. The screen shots also illustrate the vastly improved data window control that's come to the C and E. You can customize the five preset panels pretty extensively (blame me for the asymmetrical graph cells), and use the panels full, half, or quarter screen on any given page. Well done Raymarine, Maretron, and Airmar!