U.S. Boating Charts DVD…nice, but what about updates?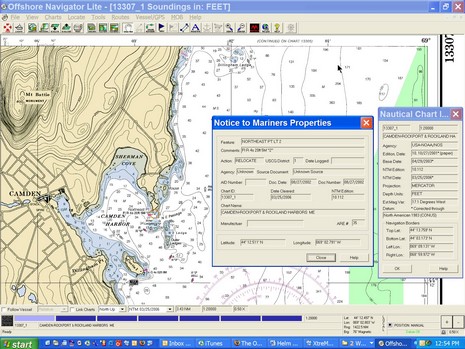 It's really worth clicking here to see the full screen showing Maptech's Offshore Navigator Lite (ONL) program included on this $50 DVD I first mentioned last April. I don't know why I didn't write more about the package sooner—we're a little scattered here at Panbo!—but I certainly was impressed with it, particularly the professional level Notice to Mariner updates illustrated in this screen shot. See that orange circle around Northeast Pt. light just right of the Camden Harbor label. Clicking on it brought up the NTM dialog box that fully explained the what and when of the change. I find that very useful for keeping up on the changes in my local waters, waters where I tend to think I already know what's what! They moved NE Pt. light a little ways; good to know! On this particular chart (learned via the other dialog box), I can see every NTM change from its Base Date of 4/29/2003 through 3/25/2006, shortly before Maptech sent me the DVD. Now I'm wondering if there is an easy way to keep these charts updated, easier than going to freeboatingcharts.com (which also markets the DVD, along with Captn Jack's), and downloading lots of whole charts. Are the update files online somewhere? Is there any software that can semi-automatically keep a specific portfolio updated?
By the way you can simply turn off the NTM feature in ONL, so you only see the latest chart, no circles. Also note the "Navigation Panel" at the bottom of the screen. Those blue bars represent different charts available at this location, the light blue meaning that I'm at the largest scale (smallest area). Mousing over the other bars would show me their titles and scales. I've always liked that. Altogether this DVD—which includes every NOAA raster plus the Corps of Engineers river rasters, all organized by region, plus a GPS wizard—is a hell of a deal. But if you are looking for all the charts on DVD, you might also consider a new product from Managing the Waterway, a $40 2–DVD set that also includes the ENCs and demos of various charting programs. I'll be checking it out soon.