USCGC "Smackinaw", ultra electronics gone awry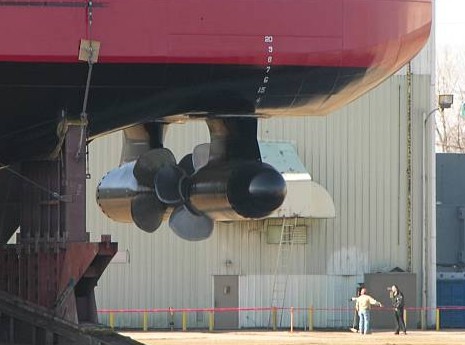 Let me say right off that I'm a big fan of the U.S. Coast Guard. But they do screw up sometimes. The latest was doozy. A couple of weeks ago the brand new cutter Mackinaw, soon to be the Guard's largest Great Lakes vessel, was making a grand entrance into Grand Haven, Michigan, when all of a sudden it did a 90 and rammed the sea wall. Only the sea wall and bow were injured, but the poor vessel earned a nickname that may be hard to live down. There's even a video, and, no surprise, the skipper got "temporarily demoted". The cause of the accident was inexperience with the controls. As you can see above, the Smackinaw has new fangled azimuth drives instead of rudders. It also has what sounds like a super high tech command and control system, judging from the verbiage on her Web site:
"Ship control is provided at 5 conning stations; Master Ship Control Console (MSCC), port & starboard consoles in the Pilothouse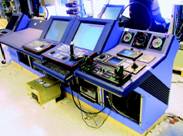 , the Engineering Control Center (ECC) and Aft Conning station. The Main Ship Control Console includes the Integrated Ship's Control System (ISCS) provided by Kongsberg. The ISCS includes; Electronic Chart Display Information System (ECDIS), DGPS, Loran-C, Automatic Radar Plotting Aids (ARPA), ATON Information System (ATONIS)/Automated ATON Positioning System (AAPS), a dynamic positioning system, autopilot, a doppler speed log, deep and shallow depth sounders, forward scanning sonar, extensive meteorological sensors, VHF, ADF, IFF, and a voyage data recorder. All conning stations will have the same intuitive user interface, the same panel layout, and menu system. Route plans, mariner's notes, charts, radar video and vector presentation are shared between the systems."
So this is one of those stories that electronics skeptics can chuckle over. And I'll bet there's more than chuckling happening on the original Mackinaw, which has been in service since 1944 and is nicknamed Mighty Mac.