Volvo Ocean 65, powered by Mastervolt Li Ion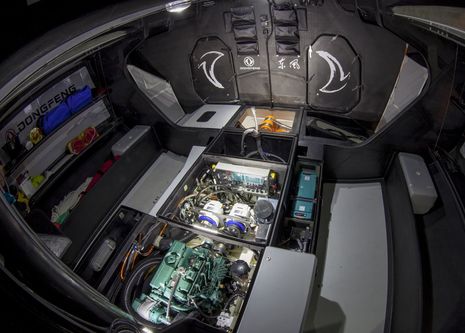 I'm happy as an oyster slow cruising Chesapeake Bay with my favorite first mate, but if I had a teleporter I surely would have jumped on an invitation to check out a Volvo Ocean 65's systems in Newport yesterday. I doubt I would have encountered a scene as tidy as the photo above — which looks forward in the main cabin of Dongfeng with most of the engine, power, battery, and keel ram covers removed, as well as the pedestal galley — but then again all that technology has now zig-zagged almost around the planet in often demanding conditions. There's a lot of gear on these one-design racers that has performed impressively, as best I know, but I'm particularly taken with the Mastervolt Lithium Ion battery system…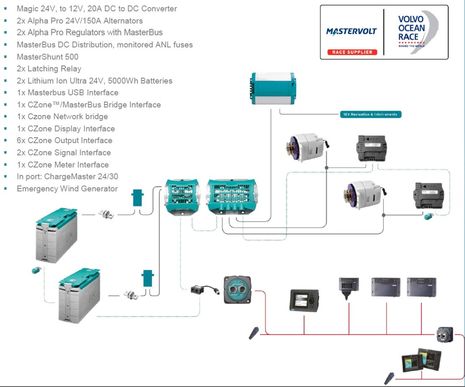 The VOR 65 power system diagram above is detailed here. The self-managing 24v batteries, alternators, regulators, shunt, fuse, DC/DC converter, and (in port) charger are all Mastervolt products, and that MasterBus subsystem bridges to sister brand CZone (NMEA 2000) for power distribution, digital switching and onboard/offboard monitoring. There was concern about overlapping lines when competitors BEP and Mastervolt both became part of Power Products a few years ago but the evidence is strong that they've worked things out.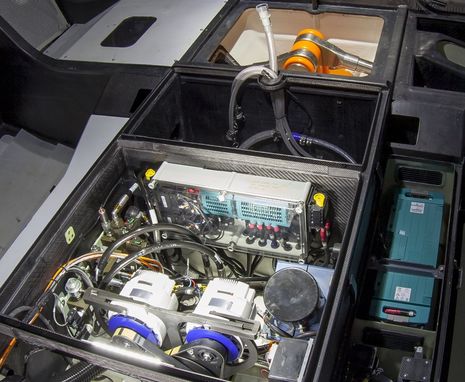 Here's more detail of the twin 150 Amp alternator, twin 180 Ah Li Ion battery set up, with several of the diagrammed components in view. And note the massive swing keel rams, which are driven by an electric-hydraulic pump that is just one of several serious loads that the battery system must supply.
In fact, these batteries are fully cycling about three times every two days, as shown in the graph above (which you can click larger). Specifically, it shows the State of Charge for the port battery on one of the racers during the 6,500nm first leg from Alicante to Cape Town, though I believe the profiles were very similar for all 14 batteries in the fleet. At the left end you can see it being charged at the dock, but then driven down to 30% SoC and rapidly charged to 80-100% over and over again. My boat batteries can't work that hard, and probably yours can't either.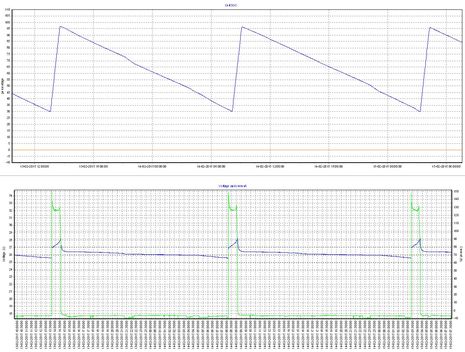 Here's a detailed charge and discharge profile for about two days during the February Sanyo, China, to Auckland leg with SoC on top and voltage and current below. It's the promise of Lithium Ion power storage not only writ large but delivered over Inmarsat satellite communications to VOR HQ and then to Mastervolt so their technicians might catch problem trends the racers might miss. No problems in sight, though, as the battery goes from about 97% SoC to 30% with very little voltage loss, then an alarm prompts an automated charging cycle which brings the battery back to 97% in about an hour, with the alternator pumping out close to 130 amps the whole time.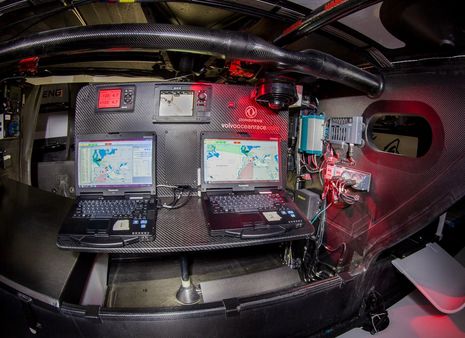 Here's the aft nav station with some of the CZone system exposed to starboard. I like how the cables aren't buried on a "working" boat like this, but then again, it isn't easy to hide them. At a Miami Boat Show presentation where B&G also explained their VOR involvement, we got to talk with Alvimedica skipper Charlie Enright as they worked to windward on that same Auckland leg and the background sounds of sheet tweaks resonating through that super stiff carbon shell were scary. Enright seemed a bit on edge himself — who wouldn't be? — but not about the power system, which he characterized as flawless. (Mastervolt applications engineer Menno Ligterink, who also helps with regular boat installs in North America, told me that the "power systems have performed outstanding so far considering the conditions they are used in. Heavy G-forces, deep discharges and a quick recharge has not compromised the performance.")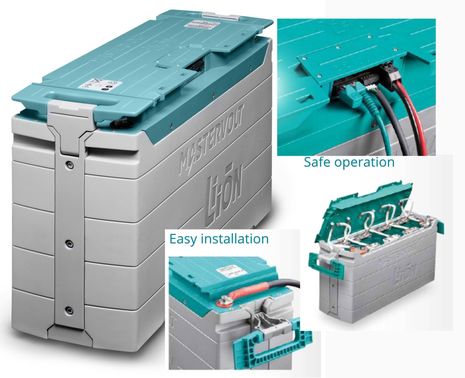 Besides for the Volvo 65's, Mastervolt has thousands of their Lithium Ion batteries working on boats around the world, and their pride in the systems seems justified. There are lots of rumors around about Li Ion related boat fires, but I've never heard one involving these highly engineered Ultra models. A DIY lithium battery bank is possible, but only if you're as smart about it as Bob Ebaugh is.
What may be more controversial is Mastervolt's analysis of Li Ion costs versus AGM batteries, though it's certainly a conversation starter. Gizmo's 12v house bank, for instance, is two Deka 250 Ah 8D AGM's that are at least 6 years old now and may well have exceeded 600 cycles (and a fair bit of owner abuse). I can tell that they are near the end of their working lives and replacing them will require more muscle than I have, but it looks like the cost will not be as bad as suggested below. But the main thing to notice about the analysis is that you really have to use your boat a lot to make it work. I don't know how exactly many cycles the VOR 65's will consume during their long circumnavigations, but it seems like they could use the same batteries for a couple more!
The VOR In-Port race starts at 2pm today in Newport and will be live streamed on YouTube, as will the start to Lisbon on Tuesday. If I had that teleporter — Lithium Ion powered, to be sure — I'd also like to attend PlugBoat 2015 in Holland at the end of September. But if all goes well, I'll be back down here in Gizmo and still grinning about it.