VuQube, for dockside satellite TV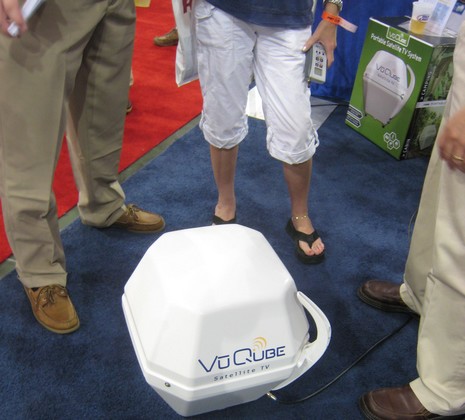 The neat thing about putting satellite TV on your boat is that if you already have the service at home, most companies will let you put it on the boat for just the monthly cost of another receiver. The problem, though, is that the stabilized antennas start around $3,000 and even the small 14" ones can spoil a handsome boat's profile. Enter the VuQube, which King Controls was showing at the Fort Lauderdale and NMEA shows.

That 17.5" high fiberglass box was originally designed to bolt onto the back of a long-haul truck cab, for use when parked. On a boat, it would live in a locker until you docked and put it on a stable spot with a good view of the southern sky. Then there's a pretty simple-sounding on-screen routine whereby you put in your location—zip code or lat/long—and the Qube tells you what elevation to set with the remote. Finally you rotate until you've found max signal strength, as shown below. King doesn't have its marine version on its site yet, but the VuQube is available at lots of trucker—and tailgater!—sites, retailing at $849.