Who's driving that big rig (#1, AIS who?)?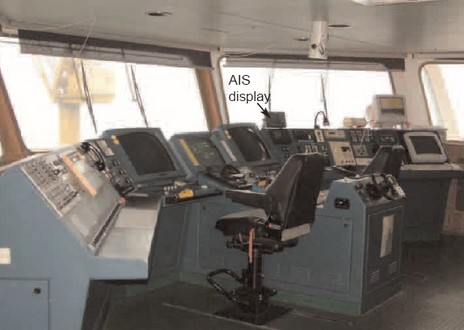 I have a great deal of respect for professional seaman, but, like the rest of us, they do screw up. Unlike the rest of us, they are driving very massive vessels. In April 2005, for instance, the container ship Lykes Voyager, en route to Vancouver at 19.5 knots had a fender bender in a foggy Taiwan Strait with another container ship, the Washington Senator, which was Hong Kong bound at 17 knots. "No one was hurt but both ships were damaged and a number of containers were lost overboard." Imagine the sound! As usual the MAIB (the UK's Marine Accident Investigation Branch) has produced an amazingly detailed report on just what happened, available in several PDfs. Noteworthy items as drawn from the report by Digital Ship:
* "Using the VHF radio, the master of the Washington Senator had agreed to a starboard to starboard passing arrangement with another vessel that he mistakenly thought to be the Lykes Voyager – he was, in fact, conversing with another unidentified vessel."
* "The use of the radio as the primary method of communication for a distress call after the collision was also ineffective according to the investigation, as there was no response from any other vessels or from the search and rescue (SAR) authorities." (They used 16, not DSC!)
* "Even though both ships in this case were fitted with AIS equipment it was not utilised for identification – if it had been the Washington Senator could have easily identified which ship it was speaking with, and the incident could have been avoided." (Both had only MKDs to track AIS targets, which—in other words—were not integrated onto their radar or chart displays.)
We need to think about realities like these even as we get excited about Class B transponders. And thank our lucky stars that we weren't in a small boat trying to avoid these behemoths that foggy morning off Taiwan.