18″ radomes #5, the 3nm no-one-best-of edition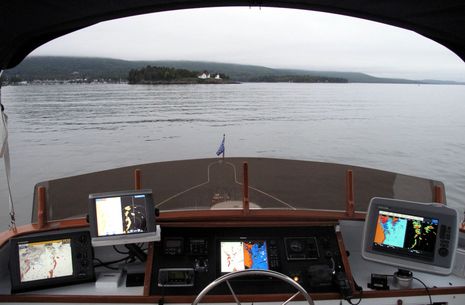 Sorry I've been such a tease about the radar testing. Since entry #4, the wet edition, there's only been a mention of dome changes and a peek at Broadband on the new Simrad NSE. Frankly, I'm a bit overwhelmed by the research I've done so far — which includes hundreds of photos and screen shots — and I still haven't spent enough time underway, particularly in rain and fog, with the four systems currently installed on Gizmo (above). Patience, please!…

And please don't expect an ultimate "best radar" declaration; complex devices like these rarely lend themselves to simple rankings, and these 18-inch radomes especially so. The general impressions expressed in #3 are holding true, but consider all the possible subcategories of "best" radar: Best raw target acquisition and resolution performance at close, mid, and far ranges; best automatic tuning (presets help); best power efficiency and start up times; best user interface (with novice, average, and advanced user sub-subcategories); best target tracking enhancements like MARPA and echo trails; best advanced features like dual ranges and scanner speed control; best installation scheme; best integration with MFD; best value…and there may be more! I will take a crack at subcategory "best of" picks at the end of this testing (i.e., winter), but the subcategory priority list will always be up to the particular owner/user.
Besides, as I've said before, all these radars are pretty darn good. Below, for instance, are all four systems set at 3 nm range at about the same place. While most of us wouldn't be this ranged out this far at this spot in actual limited visibility, I like these images because they show how well the radars can see targets less than half a mile away while also seeing three plus. Note, though, that the MFDs can scale these split screens in very different ways. The Simrad NSE below is trying to squeeze the 3 nm on each side of a fairly narrow window, at least on the radar only side, which means its trying to show almost 7nm ahead. Still, it's clearly nailing the standard can bouy 1/2 nm ahead while doing a pretty good job of painting the shoreline.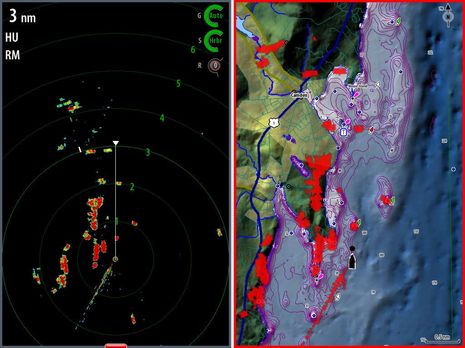 Below is the Raymarine C140W, which now has the new RD418HD attached. I'm really liking the true color echos, and it's painting Mt. Battie well at 3-5 nm, but it and the BR are pretty comparable within the 3 nm circle they're optimized for.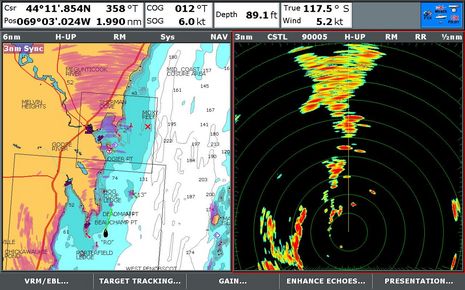 And here's the Garmin 5212 now showing imagery from a 24HD. Photos almost never look as good as screen shots, and this is no exception, but I'm not really noticing a significant resolution improvement from the bigger dome. I think the 18HD screen would look similar here, not super but not bad. I'm also closer to the can buoy by this time, but it's still targeting well.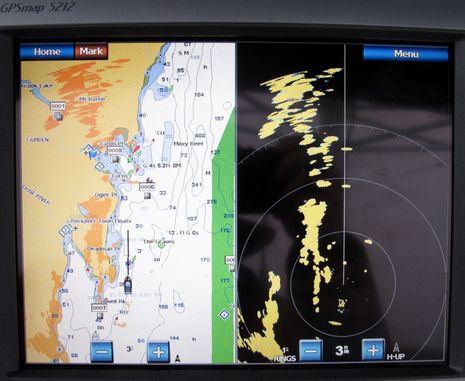 And, finally, here's the Furuno MFD12/DRS2 combination, even closer to the can, but still nailing it. Note that both the Garmin and Furuno can also overlay radar on 3D charts, a feature I'm learning to like a lot, and a "best of" subcategory I forgot.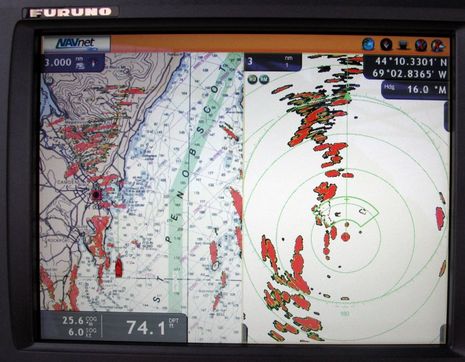 Ah, heck, one more, just because it's cool. This is the new Raymarine 18″ HD in complete auto setting (like all the shots above), clearly showing rain showers down the Bay. While I haven't actually been in rain with all these radars yet — I was trying here, but it slipped by — I think only the Furuno can match this. But the Furuno UHD 19 is notably expensive, I don't know what the Ray 18 HD costs yet, and isn't "value" a real, but quite subjective, "best of" variable.