2 new Garmin VHFs, remote mic too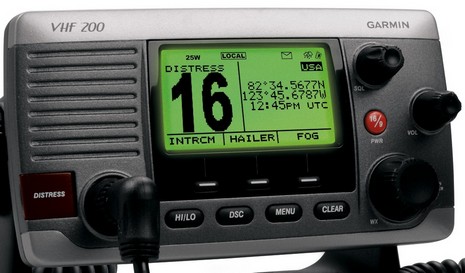 Even if it was pretty predictable (I got it half right), Garmin will indeed add ("2nd Quarter, 2009") fixed VHF radios to its ever-expanding marine line. Here's the press release, and here's a bigger image of the VHF 200 model above, including the GHS 10 full-function remote mic that can optionally wire to it. The second mic possibility is why you see "INTRCM" as one of the soft key choices on that 3.2" display, and it—along with the 20 watt hailer and a NMEA 2000 data interface—are about all that differentiate the $400 VHF 200 from the $250 VHF 100 seen below.
What we can see of the user interface looks quite straight forward, as promised, but wouldn't you like to see what the Garmin VHF design team would do with a color screen? I'm still impressed with how well the Uniden 625c's little screen conveys information, and a color VHF in Garmin grays surely would look extra snappy alongside the company's instruments and new pilot, perhaps part of an all-Garmin helm. But a new product line has to start somewhere, radio performance is arguably more important than user interface (and hopefully Garmin did well in that department), and maybe color will be in the next model. (As we know, and will see more evidence of soon, Garmin never sleeps.)
Something else I hope to see is more VHF radios with NMEA 2000 interfaces, which will make proper DSC installation and system-wide DSC plotting and calling easy. But the developers of NMEA 2000 MFDs need to get with the program too. My initial experiments with the Lowrance LVR-880 indicate that while it nicely handles even redundant N2K GPS inputs, neither the lab's Garmin 5212 nor the Raymarine E-120, nor even Lowrance's own LCX-113 yet understand its purportedly standard N2K DSC output. Yet.