"21st Century Waterways" — have your say about the Future of Navigation in the USA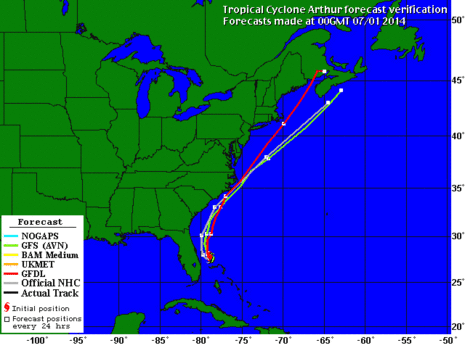 Hurricane Arthur is putting a damper on Fourth of July celebrations even up here in Maine. The fireworks were canceled yesterday, our family lobster dinner is postponed, and the gale watch that went up this morning may mean I'll be minding Gizmo tonight. But once again knee-jerk criticism of weather forecasting is not standing up to reality, specifically the work of NOAA's National Hurricane Center. Arthur made a slight left turn last night, hence the gale watch, but remains darn close to the track forecast days ago. What's more, the NHC not only distributes voluminous detail about the science behind their forecasts, but also a running graphic tally of how their forecast and the underlying computer models compare to the storm's actual track. No doubt some boaters will still get in Arthur trouble, but I'm also confident that the U.S. Coast Guard is wonderfully able and willing to render assistance. So what a perfect time for those of us in a dry spot with an Internet connection to spend a few minutes helping NOAA, the USCG and also the Army Corp of Engineers (USACE) to maximize their resources in the future.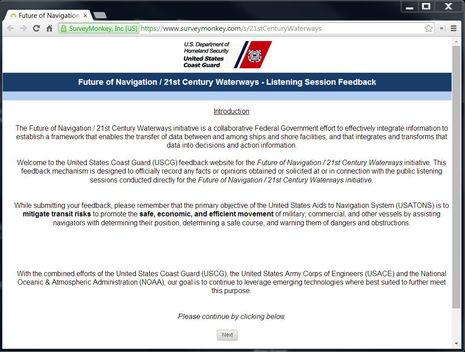 In 2012 we first heard that the USCG was considering a reduction in physical aids to navigation and other initiatives that may make sense in a world where electronic navigation has gained a lot of ground on visual navigation. This apparently led to a recent series of "Listening Sessions" around the country, and now there's an online Future of Navigation / 21st Century Waterways survey where you can share your thoughts. While the language in the introduction above is a bit stilted, "collaborative Federal Government effort to effectively integrate information to establish a framework that enables the transfer of data between and among ships and shore facilities, and that integrates and transforms that data into decisions and action information," read a couple of times suggests a big vision, I think. And don't be put off by suggestions that this survey is just for professionals; I believe that the USCG asked me to "spread the word/opportunity" on Panbo because they know that many readers are knowledgable recreational boaters.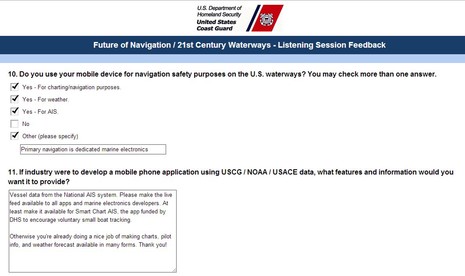 I, too, will be interested to hear how readers respond to the survey and I'll share a few opinions I came up with. First of all, I used this opportunity to plead once again for distribution of all the AIS data collected by the U.S. Government to the public. As much as I appreciate how much the Coast Guard does for us, I'm not sure they even realize that another division of DHS financed the Smart Chart AIS app system that could be a much better source of small boat tracking information if it (and related apps) could offer us the NAIS level realtime AIS monitoring. (I appreciate Marine Traffic, too, but volunteer coverage remains very spotty).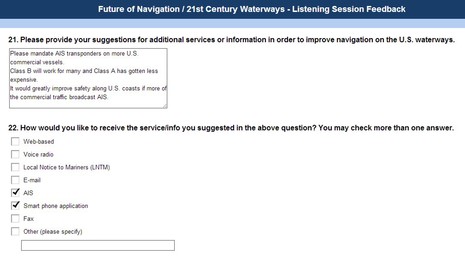 I also found a way to remind the USCG that they still have not extended AIS mandates to many commercial vessels running up and down the coasts. Many such vessels — like the Maine ferries, thank goodness — have voluntarily installed AIS but there are still many ferries, passenger boats, small tugs and fishing boats that can afford and should be regulated to adopt this valuable safety device. Heck, this impatient entry dates back to 2010!
What may get me in trouble with some readers, though, is my sense that some physical aids to navigation can be removed without significant harm to our safe navigation. But I think I came up with a clever trade off, suggesting that "the first dollars saved by reducing AtoNs should go to the rapid deployment of a secondary electronic positioning system, probably eLoran" (which is thankfully back on the table). Please take the 21st Century Waterways survey and please tell us your ideas for the future of navigation aids. Have a great holiday weekend, too, even if Arthur comes around.