AC33, Communications Challenges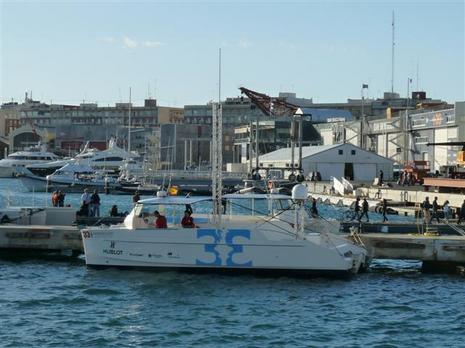 From Dan Corcoran in Valencia, SP: Because of the great speeds of the two sailboats, this America's cup will be held further from shore and on a longer race course than those of recent memory, causing tremendous challenges communicating on the race course. Even the judges are unsure that they will be able to communicate successfully in boats equipped like the one pictured above with retractable towers for VHF communications and satellite dishes.
There will be three race courses the judges can choose from on the morning of the race, based on wind direction and speed. Each course is many hundreds of square miles, portions of which are over 40 miles from Valencia. Within those courses the finish line and race marks are from 13 to 20 miles away from the start line, and won't be finalized until near the start of the race.
The vast majority of the official support and spectator boats will be positioned at the start line and race marks. With real limits on VHF and cell service over the race course, official boats and spectator boats not equipped with internet satellite links to receive a twitter feed of navigation information, will be challenged to reach the correct positions to support and observe this race at 10am local time.
Even with this capability, the official support boats are worried they can all be in position successfully for the race start. This has never been done before on such a long race course, unless you consider that it was done repeatedly over 100 years ago when America Cup courses were once very long, but that was then.
With the weather conditions expected to be cloudy with winds of 10-12 knots, wind chill factors of 8 degrees Celsius, and a need to travel 15 or more miles offshore, this isn't going to be a fun ride for spectator boats. As their reward each spectator boat that ventures into the cold is required to stay 500 meters away from the start line and racing marks.
A brave soul by the name of Mark is still looking for spectators to join him on a 45 foot powerboat he chartered to observe the race tomorrow. Departing from elsewhere in Spain and armed with paper diagrams of the race course, he is confident that he doesn't need to come to Valencia first to follow an official boat. Mark wrote "I have diagrams of spectator areas. We can go to the jibe mark, bring warm layers and cameras."
Mark has no internet satellite equipment, nor plans to get twitter feeds while he is within the very limited 10 mile range of cell service. Please post your thoughts about how Mark could best succeed in these conditions. Assuming he's not lost tomorrow on a 3 hour tour, I want to know … as I unfortunately have tickets for Wednesday's ride.
– Dan Corcoran is an avid sailor and leads ServiceSPAN a back office work center automation technology company.