Arid Bilge, smells better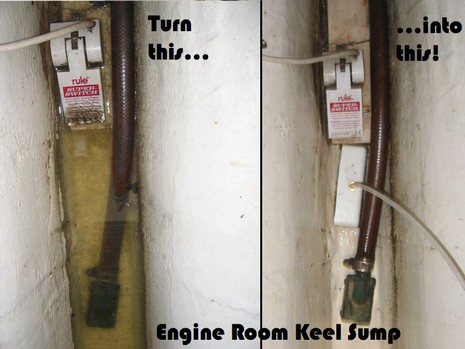 This is more than usually peripheral to "marine electronics" but these days everything electrical on boats is coming together, and, besides, I like it! Arid Bilge Systems makes what appear to be vacuum pumps that suck nearly every last drop out of areas that are never completely dried by conventional bilge pumps as well as odd places like compressor pans that can't be serviced by conventional bilge pumps. I say "apparently" because I can't find much on that company site about the specific technology (or pricing). But Arid Bilge does do a good job of explaining the many benefits of a truly dry boat, to which I will add my 2 cents…
Story time: it's November, 1971, and your boy is a bushy tailed crewman delivering one of the very first Caribbean production charter bare boats from its original home base in Maya Cove, Tortola, BVI, to a new CSY base in Georgetown, Bahamas (some history here). Hot damn, we thought…paid ($10/day) to sail downwind in warm blue water! Even it was a rather funky five-year-old 28' sloop (the first leg had been bringing its replacement, a Bristol 34, down from R.I., another story indeed).
All was grand…except that as soon as we got her heeling much in rough water one of the rankest smells ever wafted up from the bilges. It went away in calmer conditions, and we tried to ignore it (aided by the Brit skipper's five alarm curries and warm beer), but eventually it became a critical situation. Painstaking analysis revealed that the icebox drained into the bilge, and that over the years an incredible sludge of rotten food particles had accumulated there, probably unnoticed because it was usually covered by water that the bilge pump could never get out (and poor maintenance).
At any rate, somewhere north of Puerto Rico, my buddy Joe and I spent a lot of hands and knees time with spatula, scrubbies, tupperware bowls, clorax and paper towels cleaning those foul bilges just so we didn't have to smell them. Which is one reason why I'll bet that while no one really needs an Arid Bilge system (it's not a substitute for bilge pumps), it can make life aboard pleasanter. And, heck, maybe one day they'll add NMEA 2000 output, so you can get alarmed if some odd wet point is suddenly wetter than usual. I also appreciate the company's sense of humor, as in this sales bullet point:
RDCPS – (Rapidly Depreciating Cell Phone Syndrome) Ever drop a cell phone, part, or tool into the bilge? Could you use it again or even find it?