Bermuda Race, transponders & editors
I suspect I'm not the only guy a little mopy about not being in the huge fleet headed out into the Atlantic toward Bermuda right now. In fact, the usually wonderful iboat tracking system, above, seems to be jammed up right now, I'm guessing with gawkers trying to see who started well. Iboat tracking won a Sail FKP Innovation award last year, and the write up by Deputy Editor Josh Adams is available as a PDF on iboat's home page. Josh, who is now Sail's Publisher (oh yes, we writers like that!), is racing on the 65' Reichel Pugh Zaraffa, while Senior Editor Kimball Livingston is aboard the Open 50 Gryphon Solo, and Roaming Editor Charlie Doane is aboard Avocation, a Swan 48 owned by Offshore Passage Opportunities and chartered by some "Aussie lunatics". In other words, Sail is covering this race very well. Plus Alex on Finesse is business manager of Sail and PMY, and our blog buddy Eli is racing. Shouldn't I be meeting these boats in St. George to debrief the electronics?
PS, 6/19: iboat tracking has been working pretty well since Saturday afternoon (though you can see on the full screen that the wind overlay is a mite funky right now). Zaraffa is 1st in class (the biggest class) and 2nd overall—way to go, Josh—and even Finesse is hanging in (though promised e-mails failed to materialize).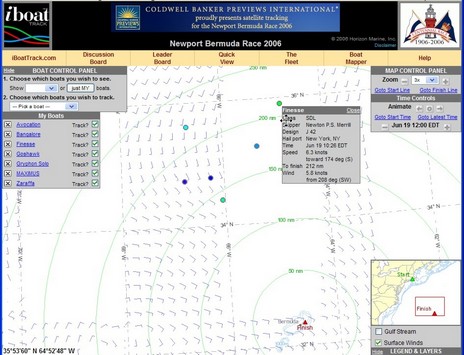 PS, 6/20, 8am: The light air has really shaken up the usual leaders list, and the 4am unofficial leader board is showing a freakin Swan 56 as 1st overall, Josh 2nd, and Doane (w/ "Aussie lunatics") an astounding 20th. Can't wait to see who the real winners will be.
PS, 6/22: I fixed the link above to the "real winners" list, and it's now almost totally complete. As of last night, there are still some boats out there, like Chase, skippered by Ocean Navigator publisher Alex Agnew. Also discovered that Kimball Livingston has put a couple of good posts about his Gryphon Solo race.