Blue Guard Innovations Launches New Wireless Boat Monitoring System: BG-Link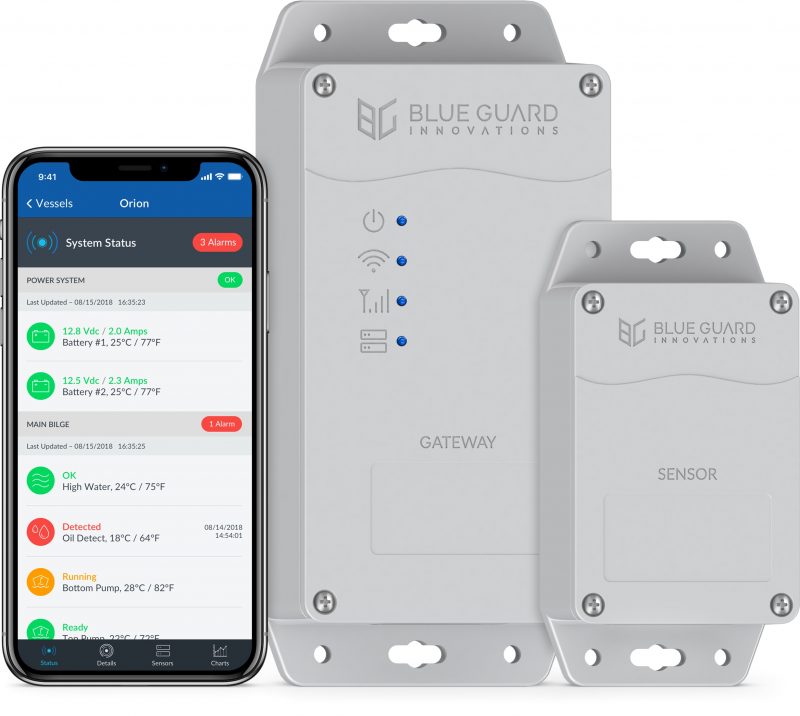 BOULDER, COLORADO (USA) – Blue Guard Innovations™ (BGI) has launched BG-Link, a wireless boat monitoring and alert system with no subscription fee for its Wi-Fi only configuration.
BG-Link is available in three different configurations: BG-Link-W (Wi-Fi), -C (Cellular), and -G (Global Cellular).
BG-Link gateway and sensors monitors battery banks, high water alarms, rate of bilge pump activations, oil and fuel detection, fire alarm, temperature, AC shore power connection and security sensors. Alerts & alarms are received by text or email using the BG-Link app, available for iOS and Android devices via the App Store or Google Play or the BG-Link web browser interface.
The standard BG-Link system includes a BG-GWM gateway and one BG-WS-01 wireless sensor. Additional BG-WS wireless sensors are available, but unlike other boat monitoring systems, each BG-Link wireless sensor can monitor up to three critical boat functions, so fewer sensors are required to fully monitor and protect a boat. MSRP is US $695 for the Wi-Fi system, $895 for the cellular system, and $935 for the global cellular system. Additional wireless sensors are MSRP US $150 each.
In addition to BG-Link, BGI has developed an innovative, patented range of solid-state smart switches and sensors that are able to detect water as well as oil and fuel spills in the bilge and engine compartments, preventing them from accidentally discharging overboard.
The flagship product in the range, the BG-One Smart Bilge Pump Switch, is a winner of the Pittman Innovation 2019 Award in the Systems category. It was also the winner of the product innovation award in the Mechanical Systems category at IBEX last October and received a Special Mention from the DAME Design Award 2018 judges in the machinery, propulsion, mechanical and electrical systems and fittings category at METSTRADE last November.
For more information about BG-Link and other Blue Guard Innovations products, visit the Blue Guard Innovations web site.