BriarTek Cerberus, the DeLorme inReach alternative?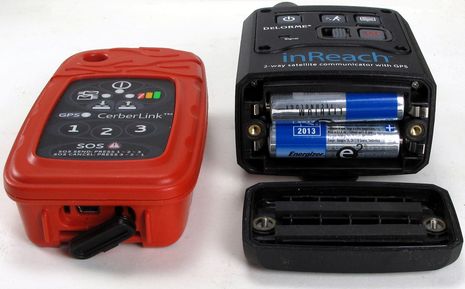 The photo above is meant to compliment the one I took when first testing the DeLorme inReach satellite communicator. It shows how Briartek's CerberLink is thinner in the depth dimension and also how it uses a USB-chargeable 2000mAh Lithium Polymer battery instead of a two AA Lithiums. And that's important. In fact it's pretty amazing how different the CerberLink and inReach are even though they're both based on the same Iridium 9602 SBD (small-burst data) modem and both aim to revolutionize two-way messaging, tracking, and safety beyond cellular coverage…
But let's start with similarities. Both BriarTek and DeLorme are offering waterproof handheld devices that can send tracking, canned messages, and distress calls on their own, along with smart phone apps for two-way messaging via Bluetooth, and web sites where the system can be managed and shared. In keeping with the three-headed hell dog theme discussed in my original Cerberus entry, these are separately named CerberLink, CerberTouch, and CerberCenter.
Beyond the naming, the Cerberus concept treats the system parts more separately too. As seen on the screen at lower right you can send a message either via CerberLink (satellite) or by Internet (if your phone is online). And people who get your email message with its [email protected] return address can simply reply to it instead of going to a special site to write a message (like the one some of you tried in my inReach hands-on #2). Also different from inReach are the synchronization management tools seen on that middle screen. While those steps are more automated on an inReach by default, it can also be harder to understand their status.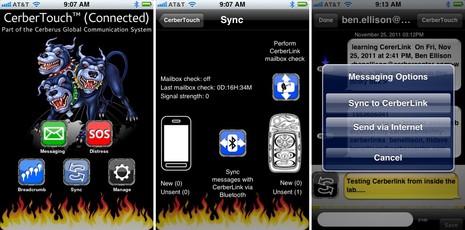 Tracking, called breadcrumbs in Cerberus, is also handled differently. You can collect them on the phone or on the Cerberlink, pass them back and forth, and send them via Internet or Iridium — either automatically or batched in messages. Also seen in the screens below are some of the excellent system monitoring seen in CerberTouch and also one of the humorous help files. I've been testing both Android and iPhone versions of CerberTouch, and have found the Bluetooth connection to be easy and reliable with both…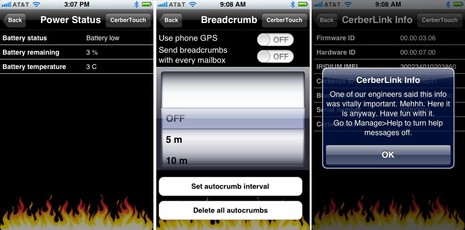 Which has not always been the case with the inReach, but then again there's only an Android version of the inReach app EarthMate so far, and my Droid Incredible may be a little dicey in the Bluetooth department. There's little question that DeLorme is working on an iOS version of EarthMate, but it's a significantly bigger project as EarthMate includes extensive mapping features that CerberTouch does not. Similarly, the DeLorme web sites for managing an inReach and for sharing inReach data with friends and family have more features than what CerberCenter offers (but are also more complicated)…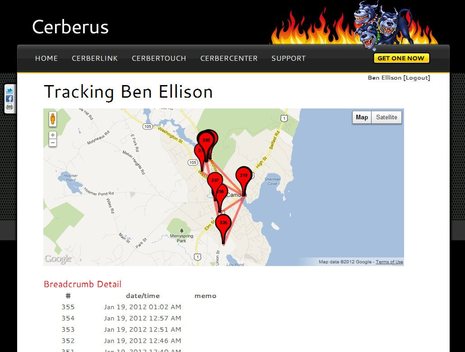 Then again, the CerberCenter offers an interesting feature that DeLorme does not, which is a notification service so far covering weather and international travel warnings. In fact, you can use CerberCenter and CerberTouch for free without the handheld, and I was pleasantly surprised to get an email warning of a recent storm this way. If I'd had set up the notification as in the screen below and set the CerberLink to automatically check mail every couple of hours, its nice little Inbox LED would have been blinking shortly after the warning was issued…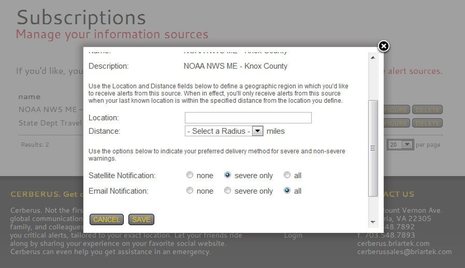 Device LEDs are another big difference between inReach and CerberLink, and the latter is the hand's down winner in this department. The inReach has one warning light for both GPS and Iridium signal which isn't very informative about either, and it also lacks an Inbox LED or a dedicated LED and button for checking messages.
But LEDs is about the only criteria I'm willing to declare a clear winner on yet. For instance, while I much prefer the CerberLink's Lithium battery myself, I can understand how wilderness hikers might prefer AA's (and I also understand that the inReach may get accessorized with a 12v base that would be great for boats). And while I found Cereberus breadcrumbs confusing, I know they're working to make tracking easier just as DeLorme has been working on battery life and Bluetooth issues. But while this is a communications technology in process, there really is something to the Cerberus claim of "It just works!" Then again its device and service are also more expensive (though you should also figure in Lithium AA batteries and note that you can rent a Cerberlink in two week increments).
Overall I think it's a credit to Iridium's partner strategy that two 9602 handhelds are so different in detail, and I think either one could be a big benefit for boaters. I'm hoping to do more testing as the software parts mature and the weather gets friendlier for real world adventuring, and am still hoping to see what a Yellowbrick3 does differently.