Calypso Cups Bluetooth LE wind sensor, TDWLB pressure too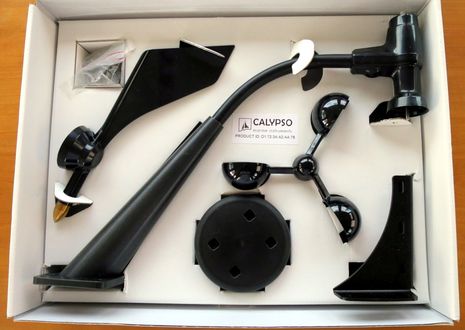 Calypso Marine Instruments is a new company located in Spain and their first product is the CUPS 4 wireless and solar-powered wind sensor seen above before assembly. It uses Bluetooth Low Energy — also known as BLE or Smart Bluetooth — to send wind data to BLE compatible mobile devices. I've used both iOS and Android versions of Calypso's own AnemoTracker app to view the data, but other apps can access it and a NMEA bridge/display will porportedly be introduced at METS…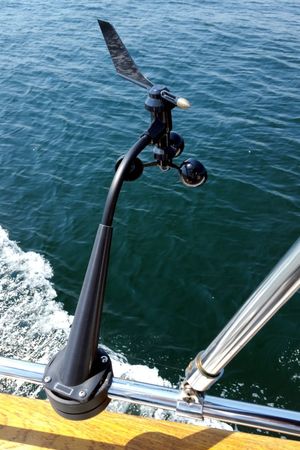 The Calypso Cups 4 hardware has been mounted on Gizmo's flybridge rail since early May. It was easy to assemble and seems quite rugged. Obviously I used the rail "puck" accessory, but it's also possible to bolt or screw the base plate to a horizontal surface or use the "L" style mast bracket. You can see the small solar panel built into the base plate. I don't know what type or size of battery is stowed inside, but this Cups has never failed to work even during a protracted Maine fog event.
According to the install guide, the Cup's actual cups need to be moving to the BLE connection — "hibernation" is one beauty of Bluetooth Lowe Energy — but they spin easily and I haven't found that to be a problem. However, at first I did have a problem pairing Cups with my iPad mini running iOS 7. Either iOS 8 or AnemoTracker 1.3 updates completely fixed the issue, but I do have a general caution about all Bluetooth connections I'll share at the end of the entry.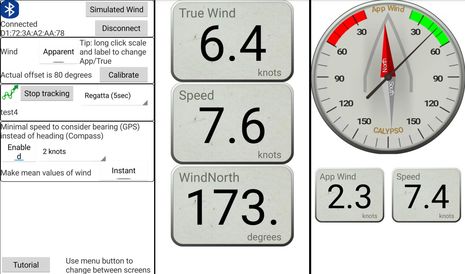 Here's the latest Android Sailing AnemoTracker app running on my Samsung Note4 phone. Another beauty of BLE is that you don't need to go to a mobile's system settings to pair devices like the Cups. In fact, once easily paired from the app's setup screen at left, the Cups has automatically hooked up ever since. The latest app version includes a simple offset calibration feature that I particularly like as my unusual (lazy 😉 install is way off rhumb line. Also new and appreciated is the ability to choose Instant or Mean data readings, though even better would be a choice of dampening time periods. The other screens show two of AnemoTracker's display modes. The app also looks at the mobile's GPS (and Heading) data, which is how it shows boat speed and collects tracking records.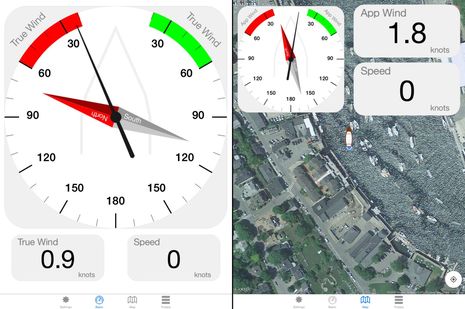 Here's iOS AnemoTracker showing the Basic and Map display modes on my iPad mini. Not surprisingly, the "map" imagery requires an Internet connection. It's neat that you can switch from True to Apparent with a finger tap on any screen, but I find the North/South Heading pin recently added to the app's wind rose a bit distracting. But you can also view Cups data in iRegatta and Calypso is open to similar third party apps integration. And I won't be surprised if the next version of AnemoTracker includes another display mode with a more standard wind rose and/or maybe one that can mark min/max wind angles so you get a sense of the shifts. I also hope track file usage gets clarified as I have not been able to find them on my phone so far, let alone see what they look like or if they can be imported into mapping programs.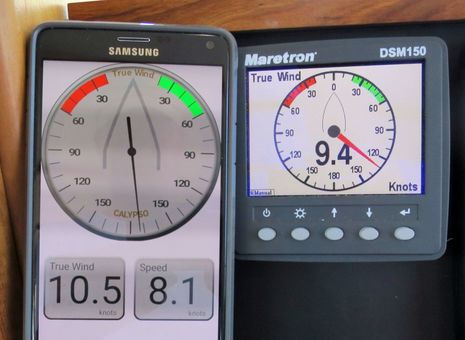 I also can't comment authoritatively on the accuracy of Cups 4, but it seemed decent compared to the Maretron WSO100 long installed on Gizmo. In fact, AnemoTracker didn't have dampening when I took this photo and the Cups mean wind angle was closer to the Maretron's than shown. Finally, note that while Cups 4 may be the first serious marine wind sensor that uses Bluetooth to make a direct connection to mobile screens, other wireless (and solar-powered) wind transducers have been long available. I tested the impressive Tacktick system, and it's all still available from Raymarine. Meanwhile, the Nexus wireless became the Garmin gWind and can integrate to NMEA 2000 networks thanks to the GND 10.
While I know a lot of sailors want to move to all-tablet electronics, I feel obliged to urge caution about Bluetooth. While the BLE version is definitely easier and more reliable in my experience, and its low energy aspect makes devices like Cups 4 possible, general operating system support for all Bluetooth seems to remain a little dicey. The wonderful Bad Elf Pro GPS, for instance, is just recovering from a long period when iOS did not support it, though it had for years. And a recent Android 5 update to my Note4 screwed up the long-reliable Bluetooth connections to my Ford Sync automobile and to my precious Phonak hearing aids. They just don't work no matter what fixes I try, and I don't think that Bad Elf, Ford, or Phonak had anything to do with these issues. I await another Android/Samsung/Verizon update and that's not a good place to be with marine electronics.
There's no doubt, though, that Bluetooth will continue to improve and that we'll see more and more BLE devices for boats. For example, Transducers Direct just announced that they're coming to IBEX with their CirrusSense TDWLB Bluetooth Pressure Transducer, seen with its app below. If you watch this convincing HVAC endorsement video, you'll learn that the sensor can run over a year on its battery. I can imagine how helpful that might be for certain large yacht installs, but am I becoming a fuddydud if I prefer NMEA 2000 sensors with wired power?