Chart ruminations, from an undisclosed location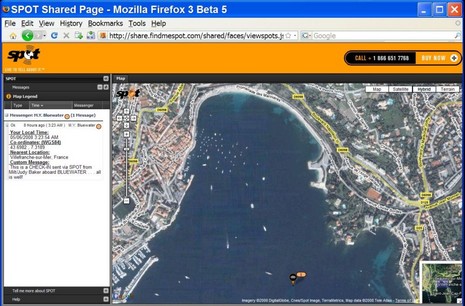 Panbo commenters don't seem very interested in Spot sharing, but I think it's a cool deal for long range cruisers like Milt and Judy Baker, not to mention working mariners like Capt. Richard Rodriguez. Note how the Baker's custom message is displayed next to their anchorage on the French Riviera, above and bigger here . And today I notice that Mad Mariner apparently has arranged with West Marine for an extra special Spot deal ($132), and that West customer product reviews are all five star. Even the SSCA offshore guys are taking a cautious look at it

Spot sharing also reminds me of Google Map/Earth's ubiquity, and ever growing power. (Team Doyle, incidently, has a complete review of related EarthNC here.) On Thursday I used the latest GE 4.3.7 version to work out a five mile walking route around the Florida port town I was in. Like so much of Florida, this area was quite pedestrian unfriendly (what's with that?), and the software let me maximize sidewalks and even visualize the spots where I'd be threatened by traffic. In fact, I "prewalked" the route in 3D high res detail, didn't get lost, and knew a bit about some of the parks and other POIs I visited. Good stuff. I'm being a little evasive about just which port that was because it's a fine place to use as an example when comparing new cartography, and I've already used Camden so much that some manufacturers may have been tempted to game it. Memo, marketing to production: "Hey, guys, put everything you've got into the Camden area!"
At any rate, and my possibly over-inflated ego aside, it would be better for me to test on a place I don't know very well, and that's what I was thinking about as I wandered said undisclosed port. If and when I arrive there by boat, just what do I want at my fingertips? Lots! This is what I came up, further suggestions encouraged:
* Latest nautical charting of navigable waters, particularly the entrance inlet, bonus for tips on how the latter acts in various weather and tide conditions.
* Tide and current predictions, preferably in a choice of table, graph, or live overlay.
* Very high resolution photo maps and ability to variably blend them with chart and shore detail. Bonus for clever ways to solve the issue of revealing shallow water photo details without obscuring bottome charting. Low res photos too, as they're useful for large area weather overlay…and that "got the world world in my hands" feeling.
* Hi res panoramic shots of critical areas like the inlet, marinas, etc.. Bonus: ability to geo position my boat in them.
* High res topography and bathymetry, preferably viewable alone or with charts and/or photo maps draped over.
* All possible Point of Interest info, both marine specific and more general like restaurants, hardware stores, etc. Bonus of course for access to user-generated content like ActiveCaptain.
* Clear information on the date created, and/or updated, of all data above.
* Easy ways to search, blend, and travel around all of the above, definitely including 3D. I know a lot of experienced navigators think 3D and many of the other cartography extras are frivolous, but not me! (Below, and bigger here
, Villefranche de mer in GE detail.)
PS. Oh yeah, Google Ocean is coming!