Coastal Explorer PC charting revisited, with love to WPx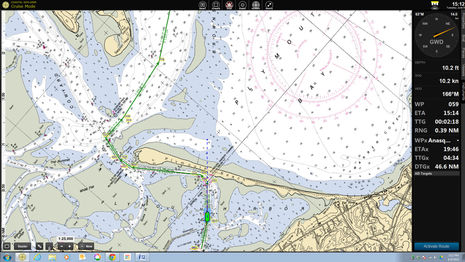 The last days of Gizmo's trip north were a difficult dance of wanting to get home quickly versus not wanting to suffer the consequences of a relatively small powerboat in biggish winds and seas. I'm still recovering. But it's a good time to detail the Coastal Explorer planning tools that surely helped me make the best of the situation, and particularly the brilliant yet rare feature known as "WPx"…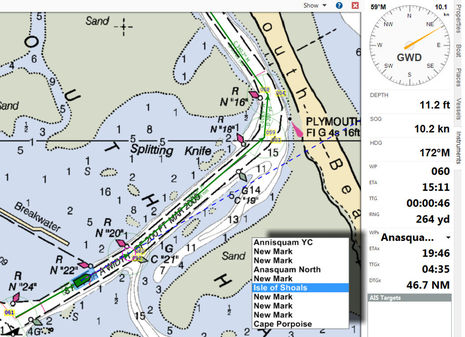 Given Gizmo's job as a test platform, I have at least a dozen different MFD systems, PC charting programs and mobile apps that I can use to build a route fairly easily, and almost all will deliver valuable underway information like bearing, distance, and time to the next waypoint as well as time and distance to the destination. But as best I can tell, only Coastal Explorer (CE) has WPx, which allows me to quickly choose any future waypoint as the current destination. (Illustrated above is the WPx drop-down box you can click into and scroll through.)
The value of WPx is huge, I think, and obviously, I name some waypoints to take advantage of it. In this particular case, I was in Plymouth, Massachusetts, working with a 174 mile coastal route to Camden that might keep us out of the worst seas over the next few days, particularly if we timed things well. With WPx I could easily get the distance to possible rest stops like Annisquam, Isle of Shoals, Cape Porpoise, Boothbay, etc., and once we were underway CE also delivered ETAx, TTGx, and DTGx at current speed. (Meanwhile, able mate Dan Harding's first blog post on the trip from Essex documented my somewhat obsessive planning habits and my rush. And his second entry notes how we scurried into Plymouth when going all the way to Scituate seemed dicey in 30+ knot wind waves, though actually Plymouth was a studied WPx option when we hauled the anchor at 5:15 am 😉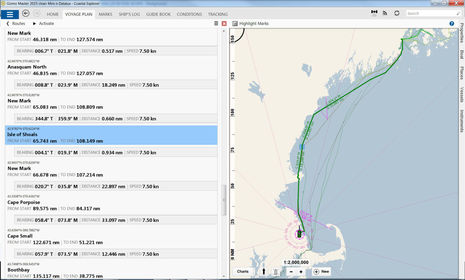 This screen shows the same route listed with similarly useful "From Start" and "To End" splits for each waypoint, and it's also highlighted on Coastal Explorer's base map along with other routes in my library and tracks of trips past. We did actually take a break among the Isles of Shoals — and even went ashore on historic and still lively Star Island — but the next day we skipped the Cape Porpoise waypoint for a straight shot to Cape Small that put the 3-5 foot seas mostly on our quarter. For me, routes are a possibility, not a commitment.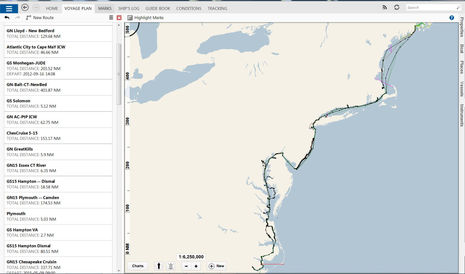 Notice how Coastal Explorer's non-underway mode (light colors in the current version) has top tabs able to focus on various aspects of planning and logging. This is another Voyage Plan screen, but this time showing many of the routes I've used during two round trips to the Carolinas. Route making with a PC mouse and keyboard is still optimal, I think, and CE has refined the process with features like "Forking" which lets you cut an existing route at a certain waypoint, copy the remainder and add a new destination all in one easy move. But it's WPx that keeps me coming back, not only for the multi-day strategizing already discussed, but also for underway work. For instance, I've included the fixed opening times of some ICW bridges in their waypoint names, and thus, it's a snap to use them with WPx to know when to hurry and when to smell the coffee.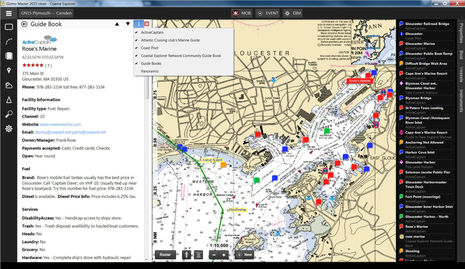 Almost every onboard CE planning session includes some time in Guide Book mode, but I took this screen at home because the developers at Rose Point Navigation have started to show CE's "next user interface" to customers willing to try a beta version. So what you're seeing is the Guide mode with a Cruising mode (underway) look and new lefthand mode buttons. CE constantly evolves, but at heart that's the same terrific Guide Book compilation of multiple point-of-interest sources that so impressed me in 2009 and again in 2010. I wonder now if they'll add the new Waterway Guide database that's now availble in iNavX? The more crowd-sourced and professionally-edited guide info the better, I say. In this case, ActiveCaptain contributers helped me find a great Gloucester fuel stop (though Dan questioned my sanity in that regard), but I also use Waterway Guide, Cruisers' Net, etc. to find right-priced diesel (remember how widely the prices differ).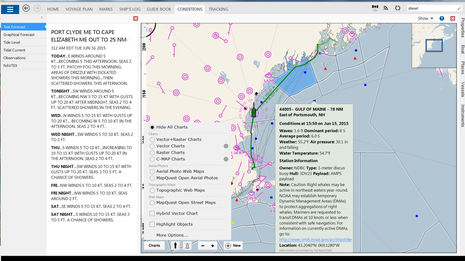 Weather forecasting is, of course, another major planning aspect, especially for the exposed legs, and Coastal Explorer is stellar in this department, too. Here I'm using the Conditions screen to check various NOAA text forecasts and buoy/land observations. Note how you can click Chart/Hide All Charts to make this sort of work easier to see. (Incidentally, a cranky Internet connection partly explains why the observation data was a day old, but I have experienced CE weather download bugs before. Nothing is perfect.)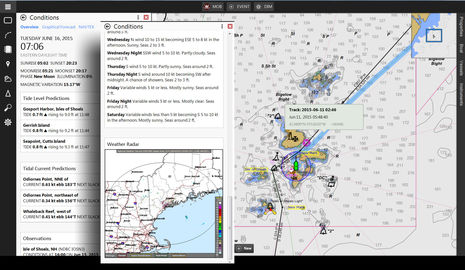 I was pleased to see that the new version of CE may include a neatly improved weather/tide initial Conditions page as well as NEXRAD radar for U.S. locations and Saildocs GRIB file display maybe worldwide. But note the "may" and "maybe"; I once wrote that Rose Point "has both a 'relaxed' marketing style and a tendency to put product perfection over actual shipping dates," and I'm OK with that. While it's fun to see the collaboration of developers and users happening on the CE Forum, I hesitate to picture what the next CE will look like or when, except that it will no doubt be good.
Another thing I won't over anticipate is the sometimes rumored iPad Coastal Explorer, though I sure like the concept, especially with the much rumored 12.9-inch iPad Pro model in sight. But darn, I so wish CE could upload routes over the NMEA 2000 gateways that it otherwise works well with (though I can import CE-generated GPX routes into any of Gizmo's major MFD system via SD card). I don't think it's Rose Point's fault, but it sure is annoying. But then again, that limitation, plus the fact that Gizmo doesn't have a CE display on the flybridge, has motivated lots of experimentation with all the other routing tools, even the automated ones (in their infancy but promising). No matter how it's done, routing is a wise part of navigation, and more reports will follow.
During the trip north I also revisited Garmin's VIRB camera system (Panbo review here) and am pleased to report that the included edit software is much improved though still easy, as hoped. I'll close with a sample and the final word from my sharp mate and new friend Dan.
PS, 6/21: Below is shown an Active Route page seen on a Garmin 3210 as discussed (and photographed) by Ron in the comments. While quite useful, I contend that this is not the same as WPx, which lets you treat any future waypoint in a route as the destination: