CoolSaver, really smart fridge control?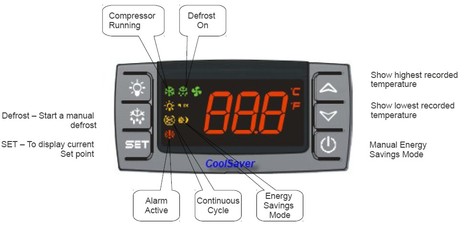 The final product photography isn't finished yet, but there's certainly enough info up at CoolSaver.net to discuss this interesting advance in refrigeration control for power-conscious cruisers. What seems unique is a feature called Charge Sense, which can push fridge temps down to a user set low when there's excess power available from an alternator, generator, or solar array, and conversely minimize power use when it's scarce. Which, if it works well, could be a pretty big deal on a lot of boats, including my own Gizmo…
The CoolSaver works with any refrigeration system that uses certain Danfoss compressors, which includes a variety of models — with and without holding plates — from Dometic-Adler Barbour, Isotherm, Nova Kool, Sea Frost, and others. And besides Charge Sense, features include high and low temp recording; defrost, food load, and energy save modes; built-in mechanical backup; and temperature alarms, even one for the condenser if you install an extra probe on it. Also listed — but still under development, I gather — are remote access via web browser and the ability to route alarms to a third party off-vessel monitoring system. A full on CoolSaver is sold by GreatBoatGear for $360, plus there's is a model without Charge Sense for $180.
I'd be interested in CoolSaver — or a similar monitor/control, if there is one — even if Gizmo's Sea Frost system wasn't the biggest amperage draw I have to manage, because getting the desired temps right by adjusting two hard-to-reach plate controls inside the box is not easy. But, in fact, when your boat almost never gets plugged into shore power, and you don't like running a generator but do want to install solar panels, Charge Sense makes a lot of sense. I hope I get to test one, or at least that someone out there will report on performance. In the meantime, I did find an inexpensive and easy-to-install temperature monitor in the Chaney Instrument Wireless system seen below,
which can be had on Amazon for $29
. The screen isn't nearly as readable as the faked product shot shows — lithium batteries would help — but it took moments to install and helped me all season to keep track of what was going on in what I reconfigured from freezer/fridge to fridge/rootceller. Gizmo needs an alternate power source.