DeLorme inReach hand's-on #2, text me!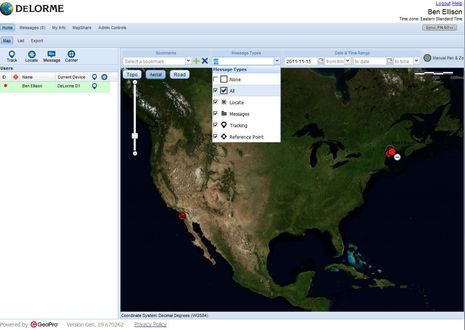 Following up on inReach hands-on #1 — which attempted to be both an overview and a close look at its associated Android app Earthmate — let's check out the Internet side of the system. The screen above is the user's web portal at explore.delorme.com, which DeLorme developed in partnership with GeoPro. Given that GeoPro builds its own pro-level Iridium handhelds, like its new $1,200 SHOUT Nano, it's no surprise that the portal let's you thoroughly view and manage inReach communications. It could even be used by, say, a fleet manager to keep an eye on multiple inReach units…
In fact, though GeoPro's own web application is not exactly the same as DeLorme's, you'll find more relevant detail at that link than on the current inReach sales pages. The inReach manual, download here, is pretty good but doesn't cover the web portal either. Don't be intimidated by what you see at GeoPro; the portal's many functions become clear once you start using the system, and the typical owner of a single inReach won't have to mess around with many if he or she doesn't want to. The minimum might be entering your emergency contacts and defining the three canned messages and associated contact list that the handheld can fire off by itself. Besides, DeLorme will no doubt improve the interface once feedback from thousands of users starts pouring in. (inReach is picking up electronics awards at a remarkable pace.)
Perhaps more important, when you send a message to someone via inReach, their first interface with the system is simple and easy, as illustrated below. They get a peek at where you are on DeLorme cartography and a chance to text you back. Messages are confined to the Iridium 9602's short burst limit of 160 characters, but I've found that you can convey a fair amount of information within that limitation. Incidentally, if the recipient tries to reply to your message as though it were a normal email, they get back an email explaining (again) how they have to go to the DeLorme site below to reply. Nice!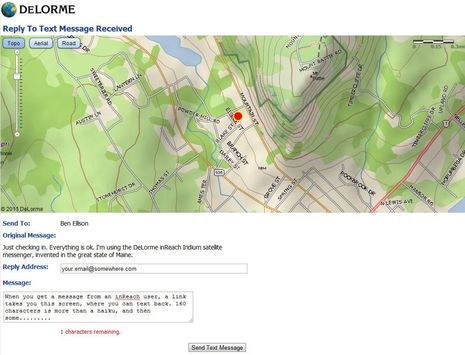 Plus you can use your portal to set up a share page that gives friends, family, and associates a lot more access to you and your inReach. As illustrated below, I've set up mine so that my people can not only locate me whenever they want, but can also initiate a text conversation. In either case, the Iridium system will then make three attempts to contact my inReach, twenty minutes apart. If it's on, its location will be automatically returned. If the Earthmate app on my phone is also connected, I'll get notified of an incoming message. Unfortunately the LEDs on the inReach will not let me know that it's holding texts, and the system stops trying to deliver them after an hour of not seeing the communicator, but those issues are fairly easily overcome if you simply send off a track point or message from Earthmate.
At any rate, I think this is a really important aspect of the inReach and other Iridium 9602 systems. As much as boaters want to be able to reach out to folks ashore from time to time, those folks often want their beloved boater in reach even more. So let's test it. I'm not going offshore today, but I will be working on Gizmo the rest of the day (an oil change and installing a Simrad 4G radar top the list). Visit the Panbo inReach share page and give it a try.