Fingers on Raymarine a65, and hello a68, a75, a77 & a78!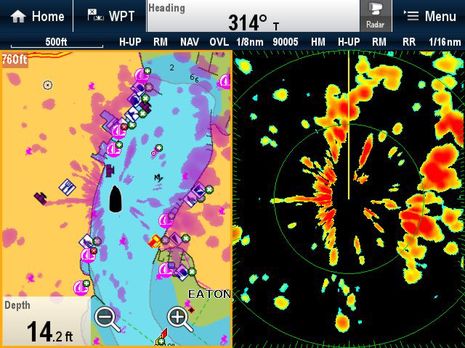 There's been a small Raymarine a65 MFD installed at Gizmo's lower helm since early last fall (as seen here) and I've used it a lot.  Frankly, I wasn't at all sure I'd like the all-touchscreen interface as much as I like the "hybrid" mix of touchscreen, buttons, knob, and cursor joystick I use on the nearby Ray e7 (tested here) or the similar Simrad NSS8 hybrid interface (compared here).  Didn't Steve Jobs say that touch couldn't work on less than a 10-inch screen?  Well, surprise, the a65's 5.7-inch touchscreen interface works quite well, even on a moving boat, and it's getting better as Raymarine rapidly introduces new versions of its Lighthouse MFD software (v5 discussed here, v7 just about to drop!).  And today we learn that the all-touch "a" is not just an interesting oddity in Ray's now-huge a, c, e, and g display lineup…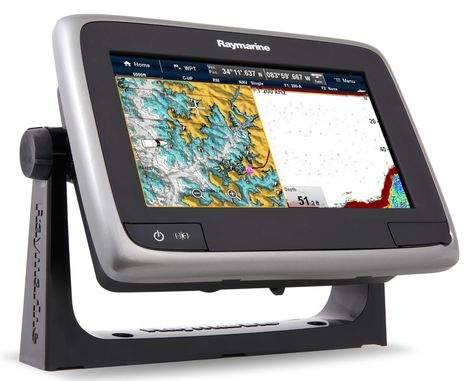 Yup, announced today at the iCast fishing show in Las Vegas is a new a7x Series. Like the a6x Series, the a75 is a pure MFD while the a77 above adds built-in digital fishfinding. So, in the 7-inch screen size, Raymarine now offers a- and e-7x models, each with a somewhat different interface but both fully networkable with each other or other size models in all the current (lower case) ranges. And that's not all…
With the new a68 above and its a78 sibling, Ray now has full network MFDs with the built-in CHIRP DownVision technology that impressed me in a February demo of the standalone DragonFly. So, yes, that's a submerged bridge (probably in a man-made lake) imaged two ways on the screen above.
   And today Raymarine also announced the CP100 CHIRP DownVision blackbox, which can bring the same technology to any a-, c-, e- or g-Series screen. Plus, they announced the CP300 Digital Sonar blackbox, which seems to fit in a middle spot beneath the CP450 CHIRP fishfinder in terms of depth and power, but is notably backward compatible with 'legacy' E Classic and C/E Widescreen MFDs. That's all for now on the new fishfinding gear, because I think I'll be seeing CHIRP DownVision live on these larger screens later this month. Besides, there's features of interest to sailors and cruisers revealed in the new a-xx models.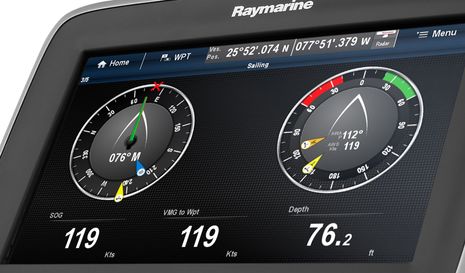 Raymarine has already put up fairly complete new a Series information, but you might want to click for the high res "Sailing" screen above. Yes, there are some Photoshop anomolies — like a SOG of 119 knots! — but the idea of side-by-side heading and wind roses with True, Apparent, Set & Drift, and Waypoint all graphically represented seems appealing and somewhat similar to what B&G is doing with Zeus Touch.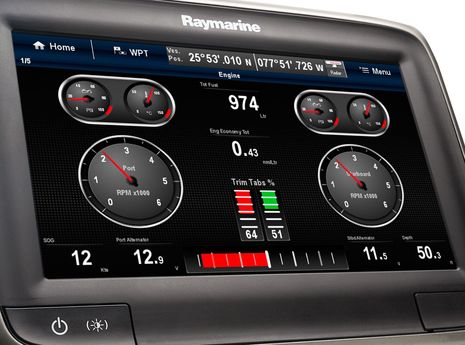 The new Engine screen also looks like quite an advancement over previous attempts, and I'm guessing that it and the Sailing screen will come to all current Ray MFDs with Lighthouse 7. Something else I notice in the new a Series info, and may be another Lighthouse v7 feature, is that the existing IP camera support adds "record and playback facilities." That will be an interesting first in MFDs, I think.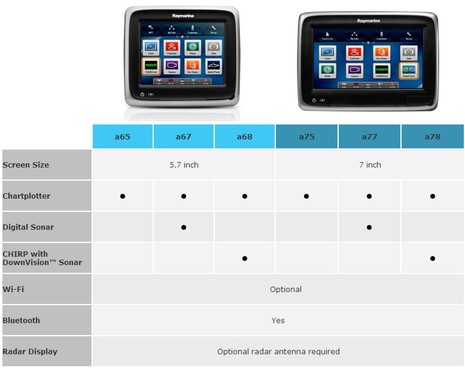 So there are now 6 a Series models instead of 2, and that's just the beginning of all the buying choices. For instance, the basic a75, a77, and a78 will retail at $1,000, $1,100, and $1,265 respectively. Add $100 if you want the unit to have WiFi, so you can run the various free Ray apps (tested here). Add another $35 if you want basic Navionics Silver chart coverage of the U.S. or another large area, or $100 for Gold level coverage (differences explained here). It sounds complicated, and may be a dealer headache, but I like the "a la carte" ability to buy just what you want.
   I haven't done a count, but I doubt that any other MFD manufacturer now offers so many models that you might mix and match around your boat (or fleet). In fact, I wouldn't be surprised to see a large vessel using the little a65 I've been testing, not so much for navigation as for cameras, monitoring and/or the Empirebus digital switching Ray announced in Miami. But I can attest that the 5.7-inch screen can serve for primary navigation if you can install it fairly close to your eyes. And I'll use this opportunity to suggest two ways to make it better, illustrated below. I'd like the top status/data bar to be switchable to the side for more vertical look-ahead charting, fishfinder and radar space. Anyone else? And though I know that many folks don't care about 3D, it definitely should be done in look-ahead boat-at-bottom-of-screen mode. But these are relative quibbles. The Raymarine all-touch a-XX Series is now large and quite interesting.