FLIBS 2012 redo #1, Raymarine Lighthouse v5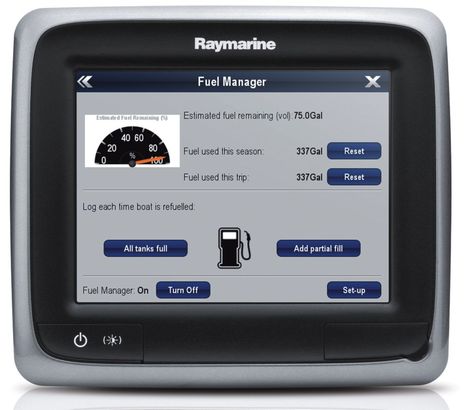 It's telling of the Great Convergence when the biggest electronics news of a boat show is arguably a software upgrade. I don't mean that innovation in marine electronics has slowed down, not at all. But whereas the Big Four have now all rationalized and modernized their product lines — though in some cases it took painful operating system rebuilds — big features can often be realized just by unleashing capabilities already build into MFDs or available from sensors that may already be interfaced. We just saw two neat new Fusion 700 audio interface updates, but now consider all the features crammed into Raymarine's Lighthouse v5 update, which was just announced the first day of FLIBS and — holy cow — is already available for all a-, c-, and e-Series MFDs…
I only got a quick look at the new fuel manager in Lighthouse 5, but it certainly seems sophisticated and reminded me of the fuel management Raymarine once developed with Yanmar (though never released for some reason). It can, for instance, overlay a fuel range circle on your chart based on real-time fuel flow, and I think it has provisions for dealing with the discrepancies possible when you measure remaining fuel both by flow and tank level sensors.
My FLIBS photo below indicates Raymarine's new support for Ethernet IP cameras but I wish it showed better how sharp that camera looked. The huge benefit of IP cameras, though, is that you can have a virtually unlimited number of them attached to all of a boat's MFDs without video splitters, switches and so forth, and often they can also be panned, tilted, and zoomed via the same Ethernet cabling. I believe that's all true of Ray's IP cam implementation but, at least for now, each MFD in the system can only display one camera output at a time. However you can set an MFD window to flip through camera outputs at a custom time interval. And if you find, say, Axis IP cameras a little pricey, perhaps you should wait a bit as FLIR just acquired Lorex, a Canadian company known for value-oriented IP and regular cams.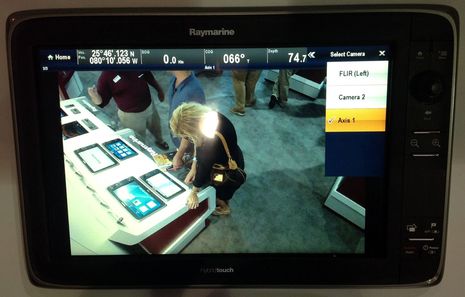 Another feature of Lighthouse 5 is a complete-seeming PDF reader. You just put whatever PDF documents you want on an SD card and now your Raymarine a-, c-, or e-Series MFD can browse the card as shown below…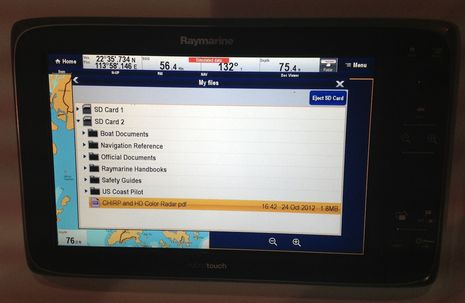 And then display the PDF as shown in the left-hand window of this next shot. I say "seemingly complete" because while Simrad added a similar feature in its RTM2 update to the NSS series — and it's quite useful — the Ray version let's you search PDFs and also display them split screen, which can be even more useful. Thus, as seen below, you can study the radar section of the e7 manual while also trying out what you learn. (And note that those onscreen radar controls just came to the e-Series in the recent Lighthouse 4 update.)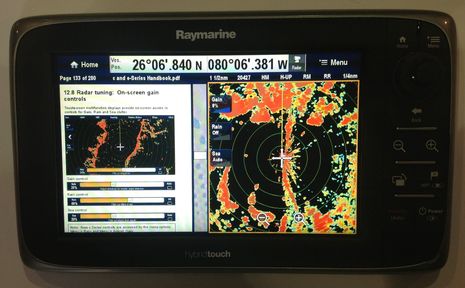 Finally, for the owners of Raymarine little letter Series MFDs and Ray/FLIR thermal cameras, the big news is what looks like a pretty complete slew-to-cue feature. Slew-to-cue means that you can command your camera to pan/tilt to most any object on your chart or radar screen, and in the case of things that are being tracked — like an AIS or MARPA target — the camera can track it too. I've yet to try the feature on Gizmo (hoping to!), but am nonetheless convinced that it can increase the operational value of a thermal or low-light camera considerably…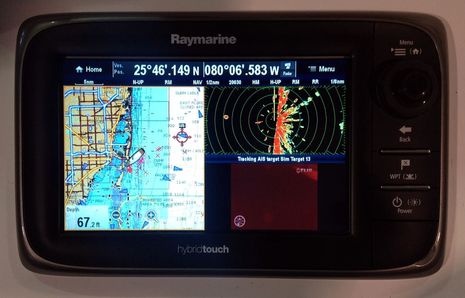 I don't think that Lighthouse 5 includes some slew-to-cue niceties like a chart overlay of the camera's field of view which I saw in Furuno's new TZT and FLIR implementation (which I'll illustrate in another FLIBS entry and which further confirms FLIR's "two brand strategy"). I'm also pretty sure that Ray's slew-to-cue can't yet do the hot-spot tracking that Garmin introduced with its thermal cams last February, but I'm sad to report that they've had to withdraw those products due to production quality issues (for more see my new comment at the end of that entry). However, Raymarine did add some automation features I hadn't even thought of, like panning (and pitching, which is why the camera height is needed) to an MOB the instant the alarm button is pushed and holding that spot as you manuever. Come to think of it, if the MOB is triggered by an AIS MOB device like the Kannad R10, the camera should be able to track it even as the MOB moves!
Perhaps the biggest news of Lighthouse 5, though, is that in three months it will be followed up by Lighthouse 6, and in six months by Lighthouse 7, etc. etc. That's Ray's software development plan as I understand it, and I talked to a third party developer who says it's highly disciplined, as in "get your code in on schedule or be bumped to the next edition." Moreover, Ray people let me know that they were a tad miffed at my "enough already" entry (I was just kidding!) and that in fact they'd have all sorts of new stuff in Miami. While it's fun to imagine what that might be — a g-Series for big boats, native N2K sensors, redesigned Tacktick gear? — can anyone now doubt that we are looking at a thoroughly new Raymarine?