Fuel management part one, Garmin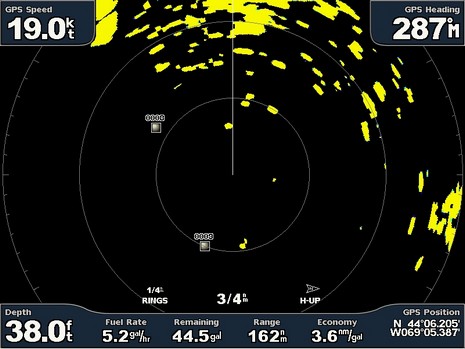 My first screen shots of Slancha's Garmin 18" HD radar drew a lot of interest and I look forward to more experimenting with it later this week, but the real subject of the shot above, and this entry, is the fuel management information shown on the bottom bar. The boat's owner, Peter Smith, installed a GFS 10 fuel sensor on the system's NMEA 2000 network, and he's tickled with the results, particularly the miles-per-gallon info, which has shown him where the sweet spots are on his power curve. That "Economy" number—a calculation based on flow versus Speed over Ground (from GPS) or Speed through Water (your choice)—may change with the boat's load, bottom growth, sea conditions, or engine tune, but he'll be able to see it happening.
Gasoline fuel flow—which is all the GFS 10 will do, with a maximum of 50 gallons per hour (ouch), a minimum of 2 gal/hr—is easier to sense than diesel, because of diesel fuel return, but all fuel management is a little more complicated than it might first appear. For instance, what exactly does "Remaining" fuel mean? Is it derived from the tank level sensor—i.e. a set tank size divided by its sensed percentage of fill—or from a set amount of fuel minus the sensed fuel flow? In the Garmin case, and maybe all fuel management systems, "Remaining" fuel as well as "Range" is based on flow. That's good because it doesn't vary as a tank moves around underway.
But live tank level is also useful, like when you're fueling up with the engine shut down. The Garmin will give you that too, as long as you have the GFS 10 wired to a tank sender, or if the display is getting tank level PGNs from, say, a Maretron NK2 Tank Adaptor. But what if the tank level and flow-based remaining fuel indicate significantly different amounts? Well, that must mean that one or both of the sensors needs calibration, and the Garmin does a nice job of facilitating that. You can modify flow by plus or minus percentages, and you can set multiple tank level marks, which, like the Maretron TLA 100 routine, should take care of irregular tank shapes. Need I add that fuel management has suddenly become a much bigger deal, particularly here in the States? I'm already testing a pair of FlowScan FloNet diesel N2K interfaces with the lab's network, and am hoping to get Lowrance's well-developed fuel management on the water. More soon.