Garmin 4000 first impression: hot damn!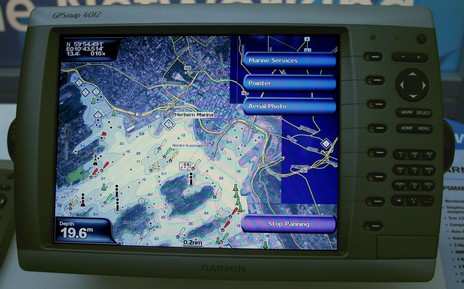 That's a hand built prototype and not all the software is done yet, but there's no question that Garmin's totally refreshed marine line is major news for boaters everywhere. Notes on the image above, bigger here:
* The casing is now aluminum and looks far better than this funky photo indicates, and the 12" screen seems very bright and color rich, even though the suggested retail on the 4212 version—with all U.S. charts, and now Bahamas Explorer charts too, built in—is about $2,670.
* A lot of 3000 series buttons are gone (there really were too many), replaced by eight vertical soft keys. So many potentially wide soft keys mean that labels can be thorough (and easily multi lingual) and menu trees simplified. Note on this specific screen how panning onto a POI automatically suggested the info you access under it (that's what I'm talking about!), and how there's a "Stop Panning" soft key instead of the old Quit button that confuses so many new users.
* The optional, now SD card based, g2 Vision charting shown seems to nicely mimic or improve on many of the features pioneered by Navionics Platinum and the Raymarine E-Series, like variable blend photo overlays (land only or land&sea), street overlay, 3D etc. Garmin adds a 2nd lower resolution world photographic base map (as does C-Map's Max Pro), and an underwater 3D view that incorporates sonar.
* While not ready for demo yet, Garmin's new "Auto Guidance" sounds like a smart compromise. You simply choose your destination and the unit will search for all 'safe' passages based on your parameters. It will mark those boundary fashion but it will not create waypoints, which might be just too automatic.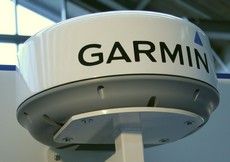 I need to get back to the show where there's something like a 1,500 other exhibitors, but there's lots more to this story, even more new products than Garmin mentioned yesterday. For instance, how about this first ever 18" 4kw radar—which, like their others, does all its processing within and outputs via Ethernet, and which will retail for only $1,000. Hot damn!