Garmin at FLIBS, 640 & GWS 10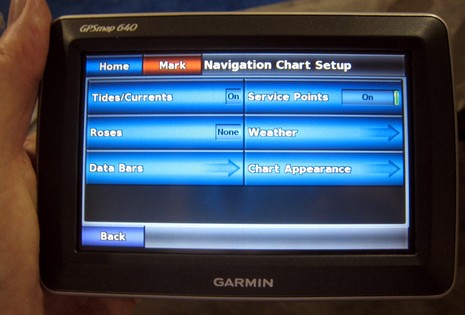 Garmin had a working GPSMap 640 at FLIBS, and I found a couple of nice surprises on it. One is that it does AIS plotting, which wasn't even mentioned on the press release. More important really is the improved touch screen interface. Notice the status labels on the big buttons above; in cases where the only choice is on/off, like Tide/Currents, just tapping the button changes the status. Which beats the hell out of the norm on most Garmin marine units, i.e. tap (or soft key, or Enter) for another screen, choose between on or off, go back to original screen. On the 640, it's one tap instead of three (or four, if you don't have touch or soft keys).
Then are variations like Service Points; the slider is a simple on/off while the pressing the main button gets you to details. This all may sound trivial but I once joked that one day we'd know the owners of (non touch) Garmins by their weirdly over-exercised thumbs. There are lots of ways touch buttons and soft keys can be made more efficient and informative (as suggested on the HDS screen), and I was glad to hear that this and other 640 interface improvements will eventually make their way into Garmin's larger marine units.
Speaking of touch screens, did you notice last night how gleeful the CNN election announcers were with their giant multi-touch map screens? Given that, and iWhatever, and Garmin's 640/5000 efforts, and Planar's bright screens, won't we be seeing a lot more touchy marine products?
Now, about Garmin's GWS 10 wind sensor: I'd seen a beta of wind-related GMI 10 screens at the NMEA conference and at FLIBS I was handed the neato screen shots below. As I understand it the full wind rose at upper left can be set to automatically switch to the downwind gauge upper right, or a close hauled gauge, when you go to that point of sail. Obviously strip charts are available, as well as that timer seen lower right. And I'm told that the GMI update that includes these wind screens also fixes the page limit and customization issues I bitched about when the GMI first shipped.
Garmin also kindly researched the question of screen brightness versus power consumption, of some concern to sailors attracted to Garmin's new wind possibilities. Here's what they told me: With a boat's battery at exactly 12.0 volts, a GMI 10 at 100% brightness consumes 226mA (or 2.7W), 50% brightness = 123mA (1.5W), and 0% brightness = 93mA (1.1W). And "the current can be calculated for any input voltage by dividing the power (wattage) rating by the voltage. What do you watt-watching sailors think of that?