Garmin GMI 10, first impressions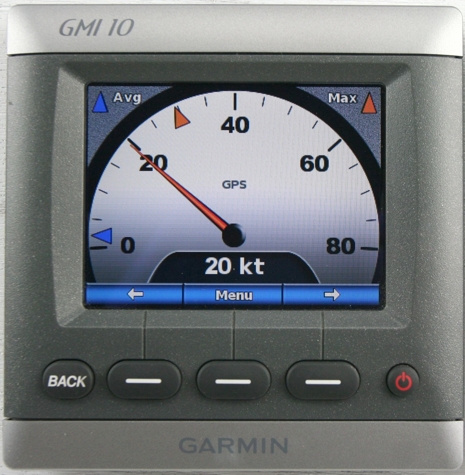 Good things first: some of the display pages available on Garmin's new GMI 10 are fantastic, at least as gorgeously graphic and data expressive as the official product photos (like the one we used in the April PMY). Check my real world photo of the speed dial above, which can even have those Max and Avg markers something like the useful Max/Min dots seen on the Raymarine ST70. One button step into the menu system and you could use STW (Speed through the Water) instead of GPS, assuming the paddle wheel sensor is on your network, and a little deeper you'll find a thoroughly annotated list of all your network devices and the ability to choose which you want as a preferred source. And, yes, that screen is exceptionally color rich and well back-lit (using a direct 12v feed, as Garmin chose not to power it off the N2K network). Altogether, and along with the ST70, rich NMEA 2000 data networking plus color screens and processor smarts equals a great new generation of marine instruments. But!

The GMI 10 software is definitely a starter version, I think, and in fact Garmin may annoy some early customers with the current page display system. When the unit is in Store Demo mode those right and left arrows flip through eleven different data screens, including the fancy ones. But the real world mode is quite a different story. In the setup menu you have to choose between three sets of prebuilt screens or your own custom set. The prebuilts—focussed on either Surface, Water, or Fuel, and only four screens each—are where the fancy graphics are and little customization is possible. But if you decide to build your own screens and specify an analog-style speed dial, you only get a rudimentary graphic like the True Wind dial below, not the beauty above. And these simple analog dials look exactly the same whether they're full screen, horizontal half screen, or quarter screen, which are the only possibilities. And you're limited to only five custom screens total.
In other words, the screen wealth you see in a store or boat show is not what you actually get to page through easily on the boat. If you compare the GMI 10 manual with the ST70's, it's clear that the latter is a quantum leap richer in preset pages (selected by boat type), varieties of data display, and screen customization. It also understands more types of data (both manuals have PGN lists), at least right now. You see, the good news here is that Garmin (Raymarine too) can keep improving the software in these instrument displays, and I dare say they will. But you will probably need the same brand plotter—or a well equipped installer—to flash the updates, much the same as the calibration conundrum.