Golden Shellback, waterproof your gadgets?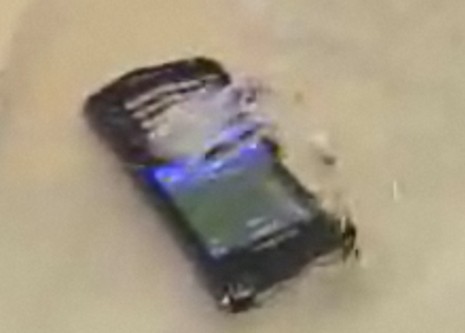 That's a Blackberry getting dunked in pan of water, which it apparently survives just fine, thanks to a new "vacuum deposited" polymer coating process called Golden Shellback. You can see the CNET video "Waterproof your gadgets" below, Gizmodo filmed a cell taking a call while in a glass of ice water, and Tekzilla had some fun with an iPhone. But I'm a little confused; all these tech sites talk about "waterproof" but Golden Shellback itself clearly calls its technology "splash proof." Many of us know from handheld VHF history that there can be a big difference.
Plus the Shellback technology is just in preview mode, with no stated pricing, warranty, or mail-in procedure yet. Yet, according to one of the videos, in a few months you may be able to send in your phone and have it splash/water-proofed for $50 to $75. (And another video mentions the rather shocking guesstimate of $1,000 to do a laptop computer.) Meanwhile I may get to test Shellback on some device from my collection, and John Konrad at gCaptain will be a primary source about all things Shellback. Konrad is also doing Web site design and PR for the company, which adds a bit to the confusion, but he's out front about his various roles (and the sites look good). If this works out, it good be a very good thing. Yesterday I had my new Centro Smart phone out in small boats, which was useful, but I know from experience that even a dollop of saltwater will probably kill it. Reminder to self: waterproof bag and Bluetooth headset!