"GPS testing"…or do they mean jamming?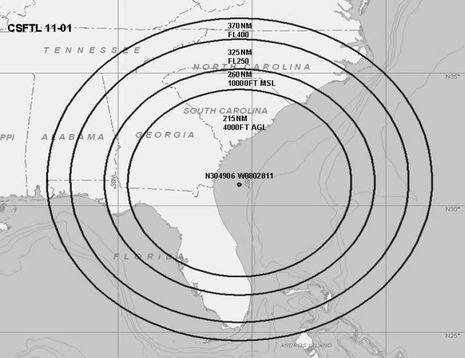 This seems odd. Yesterday the FAA issued a Flight Advisory — PDF here — warning that during a period of "GPS testing" starting today aircraft transiting the large area diagrammed above might find that "the GPS signal may be unreliable or unavailable." Huh? But never mind sites like Engadget which immediately assumed that "anyone planning on using GPS in the southeastern US for the next month or so will likely want to make sure they have a fallback option." If you read the Advisory carefully you'll see that whatever is being tested — which sure seems like jamming to me — will apparently be more effective at high altitudes than at the levels most of us travel…

What the circles on the diagram indicate is that planes at a flight level of 40,000 feet need to worry about GPS failure in a 370 nautical mile radius of the test's ground zero — whatever that is, satellite or ship or what? — while those at 25,00 feet only need to be concerned about a 325nm radius, 10,000 feet a 260nm radius, and at 4,000 feet a 215nm radius. In other words, the interference is expected to take the shape of an inverted cone. No source I can find is predicting problems at ground level, and I believe that the USCG and others would certainly be warning us loud and clear if car and boat navigation, not to mention cell tower and power plant timing, might be affected along even a small part of the coast near the center of whatever the heck testing is going on.
But I must say I'm having a hard time visualizing a GPS jamming system that would be more effective high up than it was to receivers underneath the cone of interference, i.e. with the interference between them and the GPS satellites. But maybe some Panbo reader can explain. And hopefully we'll hear from boaters in that area if the testing does actually reach sea level (though maybe not as it will only happen from about 8-11pm each day), and hopefully they'll have a "a fallback option" in mind, as every boater should.
At any rate, this is not the only instance of GPS jamming I've heard about recently. The International Loran Association —
remember Loran
? — has a story (
PDF here
) about how certain New Jersey truckers are screwing up
the first US implementation of GBAS
(Ground Based Augmentation System) at Newark airport because they have little GPS jammers so their fleet operations centers won't know when they take a little detour to…whatever. I must I laughed at the idea that the culprits weren't jihadist terrorists but rather Jersey truckers playing hooky. But maybe we should be taking this jamming stuff seriously? Was the U.S. foolish to kill Loran and eLoran?