Green Marine, a new monitor manufacturer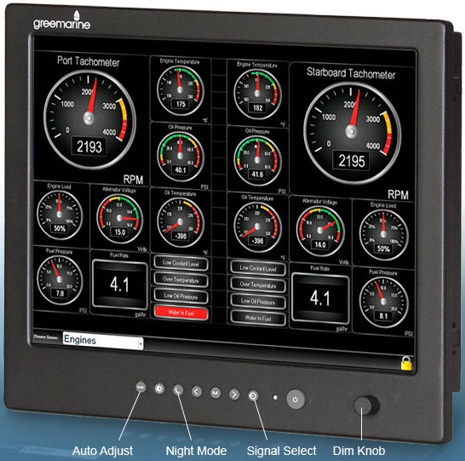 Green Marine is a new company, but the principals already knew a lot about high bright LCD panels like the ones you see outside some fast food restaurants, and have even supplied screens to some familiar marine brands. And I like their approach to the retail marine market — offering only LED backlit displays that are extra bright but at relatively reasonable prices. They've also at least started to do something I wish every manufacturer did, which is to detail their specifications against the competition…

The table below details Green Marine's 19-inch AWM (All Weather Monitor) versus Raymarine's G monitors and Nauticomp's Signature II series. Note how Green has been gracious enough to highlight categories where the competition is superior. And I don't think they left out any important (and possibly embarassing) categories either, though I trust that someone will pipe up if they did! (Manufacturers are included in that invitation.) A comparison of 17-inch monitors on the same page includes Furuno MUs and AmbientNav Ultras (also discussed here, along with my take on expensive monitors). But left out, it seems, are VEI Systems, KEP, and Hatteland and no doubt others (pipe up!).
Green Marine hasn't yet created competitive tables for its AWM 15-12 inch monitors, or its strikingly bright and inexpensive pilot house WB-15, and in those areas I think it's also got competition from the likes of Argonaut, Big Bay, and Planar. There are lots of companies selling marine monitors and it's a tough sell, as they're expensive and a lot of boaters are willing to suffer along with consumer electronics screens that are less optimal but cheaper. Which is why I said to Green Marine founder Keith Grapes, "Welcome to the marine industry; I hope you don't lose too much money!"
But I was mostly kidding, and do salivate a bit when I see that Green at least claims to produce 1,000 nits on a 19-inch screen with only 45w of boat DC. I so want a monitor like that for Gizmo's bright pilot house, both for navigation and entertainment. I don't need AWM specs for such an application but I'd sure like something better suited than a home/office screen. Grapes told me that while high bright LED panels are still only built in expensive custom runs, some component manufacturer may start producing them, and he'll be ready to add the marine touches. Sounds good.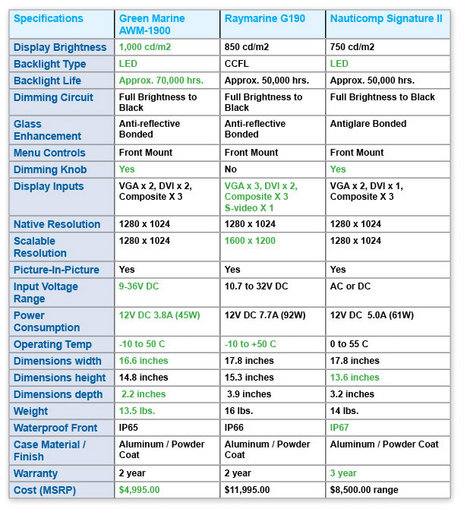 PS Of course there are monitor features that will probably never make anyone's comparison table, and here's one below, as seen at the Miami Boat Show. That's one of Nauticomp's new LED backlit monitors with Maretron N2KView as the main video source (same as the Green Marine at top). And while PIP (Picture in Picture) is common at the high end, variably transparent PIP is not. Which is why you're seeing a Nobeltec Admiral sonar window with the engine gauges showing through. I'm not sure that this a realistic way to use the feature, but I can think of some, like having a generally static engine room cam showing dimly over a corner of your nav screen. When you have a monitor like this, you want to make the most of it.