Kayak cruising, is there an app for that?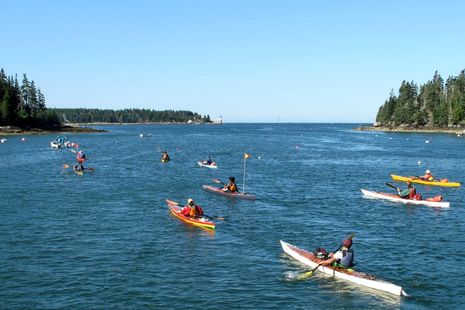 While there are many wonderful non-profits helping to preserve the Maine coast and to enable public access, one of my favorites is the Maine Island Trail Association. MITA has established a network of island campgrounds that can be visited by small boat. The Trail is used primarily by kayakers but I've visited many MITA-monitoried islands in larger boats, sail and power, and can attest to the fact that the organization has established a leave-no-trace ethic that really works. I use both the printed and online MITA Guide and appreciate other membership benefits but largely support the organization because I so like the idea of more people enjoying this wonderful coast (like those kids above, who built those kayaks in a very neat Chewonki Foundation class). So when MITA director Doug Welch asked me to answer some questions about using smart phones as aids for cruising the Trail in small boats, I'm willing to give it a try, and hope that you all will add your thoughts in the comments section…
What is the best mobile app for navigation? What are its limitations?
If you search "boat navigation" in Apple's iTunes or Google Play, you'll find many apps that can do the essential magic of plotting your GPS position on a nautical chart. Many can also give you guidance to a waypoint, or even along a route you've created earlier, and log your track. Most, like Memory-Map, iNavX, and EarthNC (below) use NOAA paper-like "raster charts" which may be particularly good for MITA members because they are also used in the printed and online Guides. On the other hand, the vector charts used in apps like Navionics Mobile and Navimatics Charts & Tides can be easier to read on a small screen.
And screen readability is definitely a limitation to consider when you may find yourself trying to use one in an open boat on a wicked bright Maine day. I believe that smart phone screens are getting brighter but I can also picture times when I'd have to throw a towel over my head and phone to use it. So I wouldn't count on using a phone app for constant navigation but might instead reference it in conjunction with a real compass and chart. That would also help with battery life, which is another issue. Consider having a spare battery and/or something like the SoliCharger, and also a separate Bluetooth GPS, as using the one in your phone will shorten battery life substantially. There also may be a little more prep work to using an app instead of a handheld GPS for kayak cruising, like for instance being sure you've downloaded all the charts you'll need in case you cruise beyond the Internet…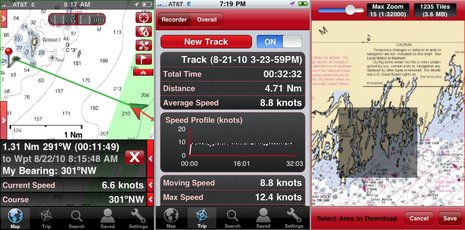 What about accessing cruising info (restaurants, fuel, etc.), tide predictions, weather data, etc.?
This is an area where apps can really excel, though in many cases you'll need cellular coverage. For instance, the EarthNC Android and Apple app seen above can display NEXRAD weather radar, NOAA marine forecasts, and weather buoy conditions if the phone is online. I'm fond of Bluefin Marine Weather (Android) for the same data, but there are many weather apps. There are also many good tide level and tidal current prediction apps, and they're self contained so a cell connection isn't necessary, but you may not need one as several of the navigation apps include those abilities, like the lovely Navionics screen below (you can just slide the prediction graphic forward with a finger). Apps are also good at point-of-interest data (POIs), and there are services oriented specifically to boaters, like ActiveCaptain and Navionics UGC, and in those cases certain apps cache the data for use beyond cell coverage.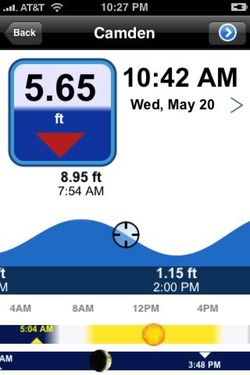 What are the uses of AIS viewers like ShipFinder?
AIS, the technology whereby ships and boats constantly identify themselves over special VHF frequencies, is still a relatively young technology, but it has a great deal of potential. For instance, there are few volunteer receiving stations along the Maine coast feeding AIS info to apps like ShipFinder and MarineTraffic, but it's not hard to do, as I learned recently, and I'm hopeful that many marine businesses will become volunteer stations. Then anyone with a smartphone could see, say, exactly where ships transiting Penobscot Bay are in the fog. Note that some of the Maine State Ferries added AIS recently, and more and more yachts are carrying it.
There's also an interesting new form of AIS in which the data format is used by apps to put any vessel, even a kayak, onto the online AIS viewers, though not onto the AIS plotting screens on those ships in the fog. I recently tested the Boat Beacon and Marine Traffic mAIS apps and could see how they'll be especially useful if and when more volunteer receivers put real AIS targets onto the viewers. But even now kayaks travelling in loose convoy could use Boat Beacon to keep track of each other easily, as long as they've got cell coverage.
What are the iPhone protectors and mounts available for paddlers?
Waterproofing a smart phone seems to be relatively easy, and I've found that using a touchscreen through a simple soft plastic bag like those from OverBoard and Aquapac works OK. But the DryCase vacuum method seen below does make the screen a little easier to use, and they also offer waterproof headsets that work with the case. Companies like LifeProof and Krussel offer more structured (and better looking) cases. I like RAM phone mounts but I don't know of any mounts that attach securely with any of the waterproof cases. (Maybe a reader does?)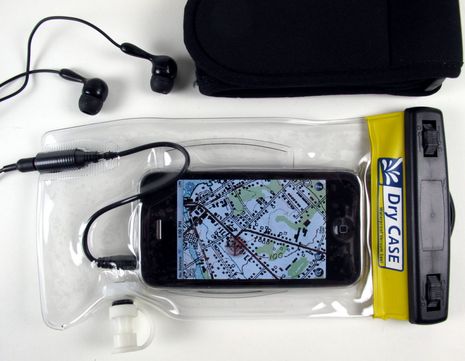 What are the limitations of cell, GPS, and WiFi coverage?
GPS is not a problem unless the system itself fails, and that's almost never happened (knock on wood). Cruisers can find open or subscription WiFi Internet access in some harbors or along some populated shores but it's quite unlikely around MITA islands. And, finally, cell coverage remains somewhat spotty along the Maine coast, particularly Downeast though I've experience major holes, both AT&T and Verizon, in Penobscot Bay. However, most of the marine apps discussed are designed to work without a cell connection. In fact, in marginal conditions you might want to shut off your phone's radio so it doesn't drive its battery down looking for a signal.
Plus there's a new satellite product that fits with Maine kayak cruising nicely and was even developed here. The waterproof DeLorme inReach handheld can provide online tracking, canned messages home, and distress calling by itself, but it can also serve as a Bluetooth GPS for smart phone nave apps and DeLorme's own Earthmate app includes mapping, two way messaging, and more. I've tested inReach a lot, and think it will serve as a great back-up navigation, communications, and safety tool on my 37-foot cruising boat. In a kayak, it and a smartphone could the be primary tools for all those functions.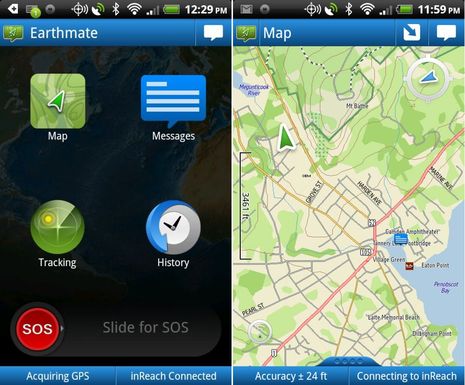 How do we prevent iGadgets from taking over the boating experience?
I'm not sure I can answer that one, but I can say that something that tends to take my mind off gadgets is boating in Maine. I also believe that mature technology can help us do things more easily without demanding much attention, and that the world of personal gadetry will get more and more specific to what we actually want to do. Imagine, for instance, a MITA app that included all the online Guide information overlaid on a full set of charts along with weather and tide data, AIS ship targets, and maybe a way for members to share local knowledge. Heck, I think it could even be integrated to an inReach or other satellite messangers that will surely follow. It really is all possible.