Low power PCs #1, & Farallon Electronics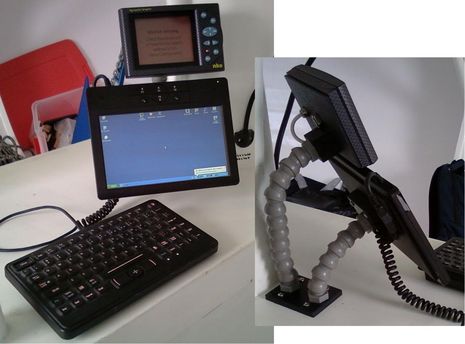 I've been trying to search out a low-power 12v PC for Gizmo, though I might give up for this season — I'm so behind project-wise — and it may not be such an issue once I install a decent solar panel or two. But it's certainly a dynamic subject, and one way to keep up is to watch the folks who are truly obsessed with power efficiency (and low weight)…offshore racing sailors. The photos of that unusual PC in the spartan interior of an Open 40 above were sent along by system designer Eric Steinberg, founder of Farallon Electronics, along with a few details…

The netbook level PC, for instance, is self contained in that 10.1-inch touchscreen LCD, was sourced from Winmate, and is at least very similar to this 12 watt model. Eric says that, while it's not waterproof, they think it will hold up, and it's easily replaced. Meanwhile the Cherry keyboard is washable, and features a lock down Clean key and adjustable red backlighting, though Eric is "not at all happy with its HulaPoint mouse." And finally there are those nifty mounts custom built using Snap-Loc hosing bits, and similar to ones we once spied out on Gitana Eighty.
I first heard about Sausalito-based Farallon Electronics years ago, primarily as specialists in offshore communications and a major distributor of Pactor modems. But these days Steinberg and crew are also involved in developing and manufacturing marine electronics for high performance racing. First up is the precision IstarGPS sensor, which claims to use an unusual Doppler technique called MotionSense to provide "extraordinarily
responsive" SOG and COG. Farallon will also soon be shipping the UltraWhip ultralight VHF antenna…like a 15 ounces light, with 55 feet of coax!
Farallon was also the team that installed the unusual electronics on the (ultra low performance) Plastiki, but when we traded emails this morning, Eric was in Newport on the deck of the super maxi Speedboat, another Farallon project and the inspiration for the IstarGPS. I'd sure like to see how she's set up electronically to go for Bermuda race line honors again, but such setups don't seem to get photographed (or even talked about) much. Best I could find is some Sailing Anarchy video glimpses, but what a boat.