Lowrance Elite-4 HDI, a whole lot of tech for a little dough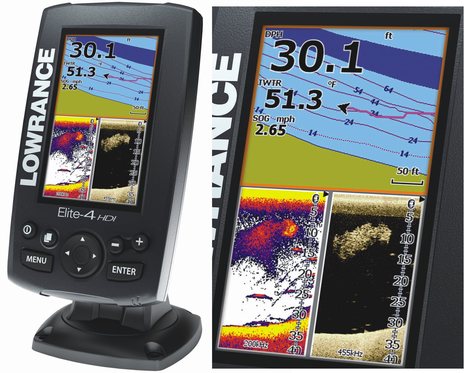 While I don't normally follow the small-size displays closely, the new Lowrance Elite-4 HDI models announced yesterday seems to sport a remarkable ratio of dedicated marine electronics to cost. Their bright 4.3-inch LED-backlit screens, for instance, are substantially bigger than the Elite-4 models they replace, which were praised for their value. The plain Elite-4 HDI model, with a suggested $299 retail price, not only offers both regular fishfinding and high-frequency narrow beam downscanning — each with a shallow/deep frequency choice built into the included transom transducer — but also includes GPS, a bundle of lake and coastal cartography and support for all sorts of chart card types…
The new Elite-4 models can even display and alarm AIS targets — though via NMEA 0183 only, as 2000 support is one of the few features they don't share with larger Elite HDI's — and I won't be surprised to see one on a bigger boat being used for secondary or backup AIS and/or chart plotting. They can even be flush mounted. The right model for such use, though, may be the Elite-4 m HD Gold, which includes an SD card of Navionics Gold detailed charts for the U.S., Canada, and Bahamas while losing the fishfinding and $30 of suggested retail. There's also a $199 Elite-4x HDI that's fishfinder only and an Elite-4 HDI Gold that includes everything mentioned for $369.
   Don't I remember proprietary memory cards containing small regions of relatively crude digital charts that cost as much as all this hard and software? I know that the beloved trend of consumer electronics is more for less, but it often seems less evident in the much smaller world of marine electronics. I suppose it's the relatively high numbers of small fishing boats that largely make this high level of boat gear value possible, but isn't it also a reminder of how far and fast we've come?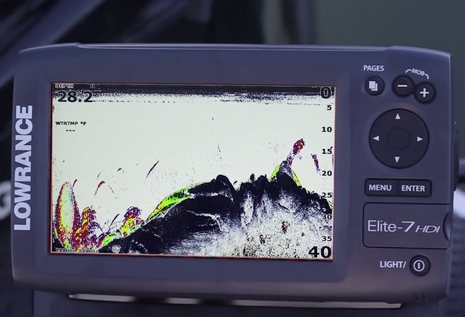 Plus, the Elite Hybrid Dual Imaging models offer a Downscan Overlay feature that seems valuable. I don't have an image of it working on the new Elite-4 display, but you can see it in action in this Elite-7 HDI video. The idea is that laying the more detailed structure-oriented grayscale downscan imagery over the blobbier, but more sensitive and color-coded Broadband Sonar, can reveal fish even when they're otherwise nearly hidden in the structure. I have not yet seen this feature live (that may happen this January in tropical waters ;-), but I suspect that it's another reason why fishermen who already have a finder and even curious cruisers may be interested in the new generation of sonar. Note that Lowrance has Humminbird competition in this same size/price range, and if you're looking for a somewhat bigger plotter with advanced sonar, you should also check out Garmin's latest and Raymarine's latest. (Heck, Furuno even has value-oriented plotter/fishfinders now.)
Finally, check out the free Insight Genesis custom online chart of Camden Harbor that I was able to create with just the downscan data I can record with the StructureScan unit on Gizmo. I can use it to watch the downscan video anywhere along my recorded track, so I've seen enough versions of the unusual structure shown below to be sure it's the outlet of my town's wastewater treatment plant!  If I had an Elite-4 or many other Lowrance dual imaging setups, I could also view the simultaneously captured sonar and if I purchased an Insight Genesis subscription, I could adjust the map for tide, view bottom types and even download a chart I could take back to the MFD (good how-to article here). The bottom line, so to speak, is that you can create maps like this with just a small boat and less than $300 worth of electronics.