Magellan Crossover, a so-so AIO PND so far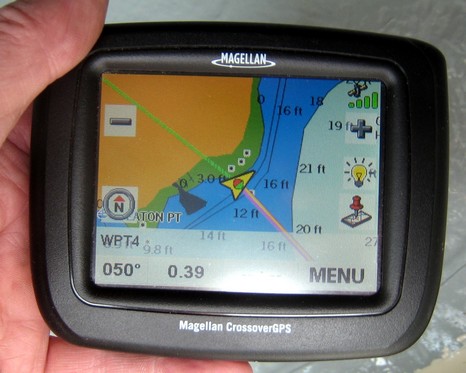 I've been intermittently testing this Magellan Crossover for months now, and the fact I haven't mentioned it here is a sign of my ambiguous feelings about it.

The proposition—an All-in-One (AIO) touch screen Personal Navigation Device (PND)—is really seductive. And some features, like clearly differentiating its three navigation modes (below), are just right. Tapping one of those three upper buttons gets you the appropriate screens, route types, terminology, and units of measurement for that particular use. But, as I wrote in PMY, the screen is quite hard to read in direct sunlight. In fact, I had to hold it in the shadow of Annie G.'s foredeck to get the image above, bigger here. And notice how selecting a waypoint has dimmed out a whole band of the already limited display; there are many little interface irritations like that. Or least, there were. I've just realized that Magellan has posted new firmware, a whole number version jump, since I last flashed it. I will give it another try.