Maine wackiness, and Garmin HD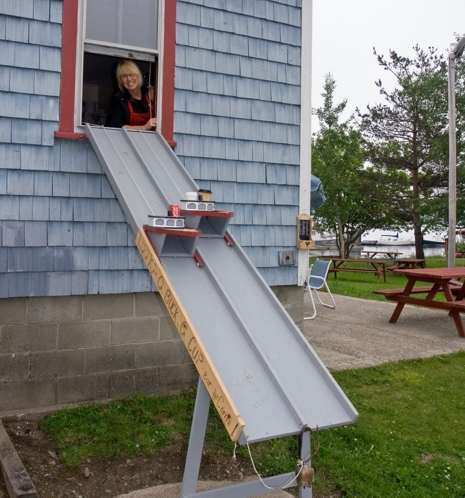 Bet you never saw a rig like this "buck-a-cup" beverage launching ramp!
You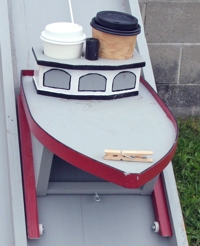 drive up to this contraption next to the public boat ramp in the south end of Rockland, Maine; ring the cow bell to get the attention of someone in the kitchen of Sharpie's Shack; and then—ayuh, cap—your refreshment will slide down the ways stowed in the little pilot house at right. You pay your buck(s) via clothes pin. Knowing the proprietors of this operation a bit, I'll predict that it will eventually include a steam whistle. Nautical wackiness is a justifiable, and wonderful, consequence of long Maine winters, and another reason you should visit our great state.
In fact, you can dock'n'dine at Sharpie's South, as I did last Friday, thanks to friend Peter Smith and his sharp Banks Cove 22 below (note how the stepped-down sole lets this relatively small boat carry a cabin handsomely). Peter recently installed a small but powerful Garmin network—4210 MFD, 18HD radar, 17x GPS, fuel flow sensor, and depth/temp Intelliducer—which works pretty impressively. I'll write more about the system's performance soon, but here's a bigger image in the meantime. Peter designed that radar mast, by the way, and had it custom built in aluminum by Rockport Steel, which is yet another local boat builder. Have you gone by MaineBoats.com yet to make your plans to attend this August's Rockland show, or check out my Gunkholing with Gizmo columns?