METS 2016: Navico, Fusion, Airmar and Signal K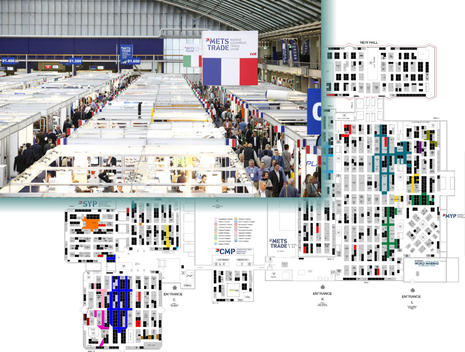 This year's annual Marine Equipment Trade Show (METS) in Amsterdam seemed busier than ever. It's good to see that the marine industry has largely recovered, although the sailboat business still seems to lag behind behind motorboats. The super yacht halls were very busy too. I saw some exciting new developments from Navico, who were showing the brand new NSS evo3 and B&G Zeus3 as well as their recently announced instrument displays. Fusion had a new high-end speaker, and Airmar showed me their brand new electromagnetic DX900+ multifunction speed sensor.
Simrad NSS evo3 and B&G Zeus3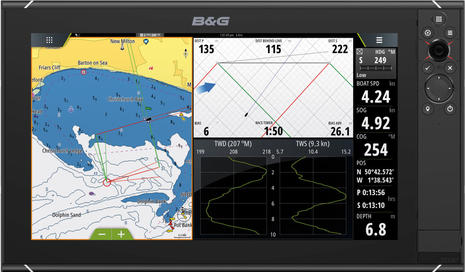 First up is the new 'evolution' of Navico displays in the form of Simrad NSS evo3 and B&G Zeus3. Visually they look quite similar to the previous generation; it seems that the designers are now satisfied that a combination of touch and keyboard is the way to go in the mid-range. Part of what drives these upgrades, I think, is that the low-end devices had overtaken these mid-range series with built in features. So now all the new Navico MFDs contain WiFi and have sonar built in. Another part is the continued refinement of the user interface (UI). Besides seven buttons and a rotary knob there is now a separate cursor pad. Having more controls means it is now possible to drive the complete UI without needing the touchscreen at all. If you're on a wild ride you can even disable the touch controls, thus preventing accidental touches from messing with your display. The LCD screens have been improved, with higher resolution, better sunlight visibility and improved off-angle color reproduction.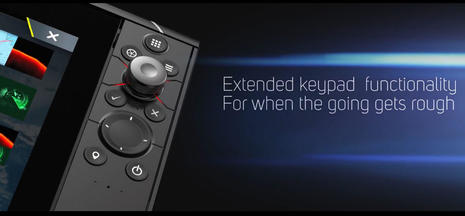 What I think is the most important development here, and a very smart move, is that Navico has included a customised web browser in their new NOS (Navico Operating System). Until now integration with parties like Mercruiser and CZone was done by including additional UI pages written by either party, but included in the software image that was installed in the MFD. This means you need tight cooperation between two development teams and a new release of the MFD software if something in the digital switching system or engine changed. By moving to a HTML5 based web browser this is now much easier. On Simrad NSS evo3 the launching integration partner for this is Naviop, who they have been working with for over a year now (as Ben reported from METS 2015). On Zeus3 they are using the HTML browser to allow full configuration of the H5000 CPU, which required a laptop or tablet until now. I'm sure that they will find new uses for the web browser.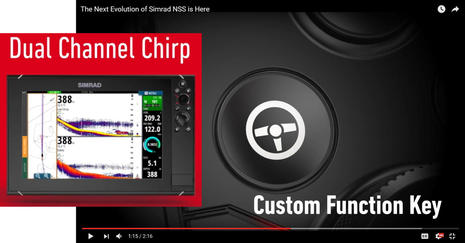 Lastly I find the new addition of PredictWind integration in NOS very useful. It allows users of the PredictWind weather service to download forecasts directly onto their plotter and view GRIB files and predictions directly over the chart window. Navico is also making it possible to download updates for the chart plotter itself directly from the device, further enhancing their GoFree strategy. I've seen a different part of their download update capability in action on my own Lowrance HDS2T last weekend — I switched it on and it reported that I should update the software on my AIS. Very cool.
I hope to make a more in depth report on this in Spring, as I will likely be updating my HDS2T to Zeus3 once it is available.
Simrad IS42 and Triton2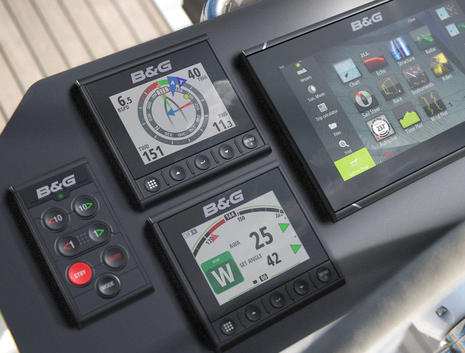 Also on show were the Simrad IS42, AP44 and B&G Triton2 displays that were covered by Ben when announced in September but I was able to see in the flesh. They have beautifully rendered screens with (if you want) very high information density. The AIS display seems a bit of a gimmick, but I really liked the updated SailSteer page that has improved markedly over the wind page in the earlier generation IS40/Triton. I also liked the rotary knob on the AP42 and the buttons in general are much nicer with a better feel, so it is much clearer when you have actually pressed a button. I also like the capability to use a reverse color palette with white letters on a dark background. There are two downsides to these new displays though. Software updates need to be applied over USB, so you need access to the backside to update them. Furthermore they are not direct drop in replacements as the rear side doesn't use the traditional circular hole that earlier versions (and most of the competition) use. You now need to cut a 10.5 cm square cutout, which also means you only have a 6.5 mm overlap of the display over the hole.
Fusion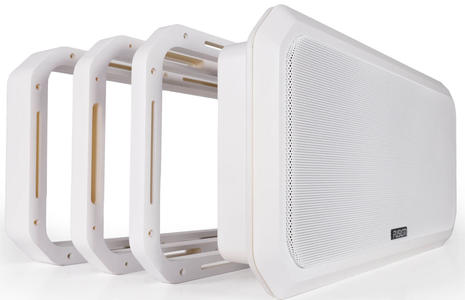 As Ben reported last month, Fusion is still on a roll as Garmin lets them do their thing quite separately from the mothership even after the takeover — they're not taking the word Fusion literally in that particular sense! Besides what Ben got to see I was able to see the new Fusion Sound-Panel in action. It's a dual speaker system capable of stereo sound, all encapsulated in a neat, single, very shallow enclosure. It has uncharacteristically subdued styling for Fusion, with just a small emblem and no swishes, swashes or LED lighting (which look cool on a powerboat but may be out of place on a more traditional yacht.) It's fully closed at the back as well, ensuring well defined bass. The sound environment at the show didn't lend itself well to a qualitative assessment, but given the size of the drivers and their reputation I'm pretty sure it will sound very nice indeed.
Airmar DX900+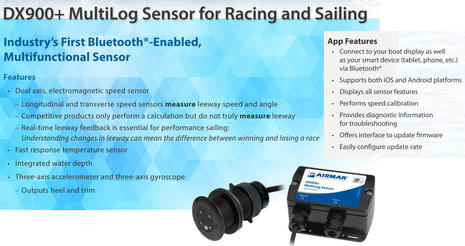 I am happy to report that Airmar is now finally shipping the long awaited ST900/950 ultrasonic speed sensor (for either NMEA0183 or NMEA 2000 output). Reading the updated Airmar brochure PDF it sounds all very well and seems especially suited to high speed motorboats. What was even more interesting though was another new paddle-less electromagnetic speed sensor oriented to racing and high-end sailboats, which will be on the market in just a few months. I wasn't the only one impressed as the DX900+ MultiLog won the DAME electronics and software category award. Airmar was confident enough to let me speak to the three French engineers who developed it. It's always a good sign if a company lets you talk directly to the engineers behind the product.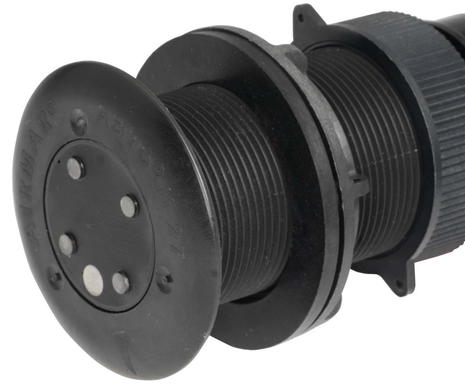 The first thing I liked is that it adapts existing technology to a new use. The core of this same sensor has been used in the fishing market for years to monitor trawls. The sensors are mounted on the net ends because the fishermen want to keep the mesh square so that the trawl has the optimal size and strength, and thus they must measure sideways as well as forward speed. The beauty for sailors is that the DX900+ can measure leeway directly, instead of inferring it from the difference between speed through water and speed over ground. As the sensor is fully symmetrical it can even measure reverse speeds accurately. It's been tested in non-saline waters as well as sea water. It also contains a fast response temperature sensor (I think it's the fifth metal surface you see) and a three-axis accelerometer and gyroscope, outputting heel and trim. Since the technology measures in the boundary layer it does require some calibration, but the engineers have found that one point calibration is good enough for all but high end racing conditions.
Another DX900+ advantage over a paddle wheel speed sensor is its sturdiness. The four speed measuring pins stick out of the epoxy core about 1 mm or so, to ensure a good bond of the epoxy to the alloy. Since they are bonded in completely it should survive being covered by a sling when hauling the boat (it's also retractable), or flotsam passing by whilst sailing.
There will be three models, one with speed and temperature outputting via NMEA 0183, and two with depth, speed and temperature and either 0183 or 2000 output. The latter include a small interface box. All three are calibrated using an application from your smartphone or tablet, and the BlueTooth connection can also be used to view the data. Software updates will be possible using this method as well.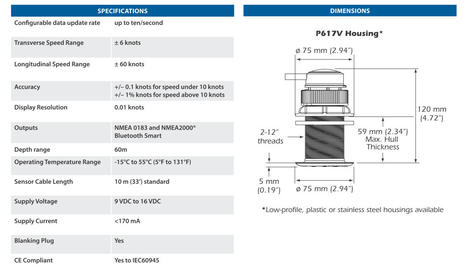 As you can imagine the DX900+ is a much more complicated product than a simple paddle wheel sensor. The predicted end user price will be around $1,400. This means it's quite a lot more expensive than a DST800, but if you want to have direct leeway measurement, or are just fed up enough about cleaning or breaking your paddle wheel, this seems to be a very good option. And lastly it's a simple retrofit as it fits the DST800 housing perfectly. I hope to report on a field test soon, as Airmar have promised to come by and install one on my sailboat.
Signal K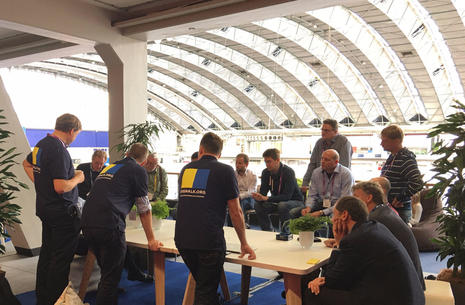 I didn't have as much time as normal to walk around with my "Panbo hat" as there were two Signal K meetings and some meetings with vendors involved. We had a "meetup" with about 20 people meeting the four out of five Signal K core team members present. Not only was it fun to finally meet each other, but the core team was amazed that so many people took the effort to come over! Discussions continued until late at night at a local Amsterdam "brown cafe" where bonds were improved over drinks and dinner. This resulted in a commitment by the Signal K core team that we will release version 1.0 of the specification this year — likely between Christmas and the end of the year. New versions will be released after that on a regular schedule, probably every 12 months as that is a natural cycle in boating.
Many thanks to Kees Verruijt for again sharing some METS impressions with Panbo readers. Kees owns and operates the cool sloop Merrimac and is a member of the Signal K core team ~ editor