MIBS 2013 Raymarine: Dragonfly, gS-Series, Evolution AP & much more!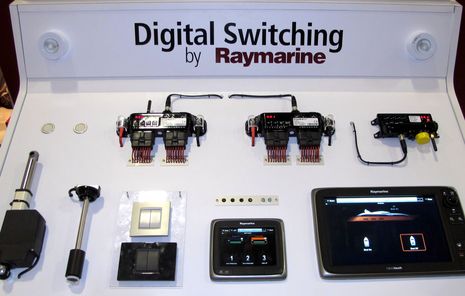 Raymarine was a little slow getting their Miami press releases out, but then again they have a LOT to talk about. And even with the six releases you'll find at that link, they left out what I think is a significant move: the "coming soon" Lighthouse 6 software release for all a-, c-, e-Series multifunction displays — as well as the new gS glass bridge MFDs — will include support for Empirebus NXT digital switching and distributed power technology. With Ray's endorsement, the fully integrated bridge just got a little more real…
In the Miami booth exhibit seen above you could use Ray screens to switch lighting scenes, check tank levels and even control a hatch lift over N2K, and of course much more integration is possible. Note, for instance, how two of the demo Empirebus modules have antennas; one connects wirelessly to those wall switches and the other supports GSM cellular for off-boat monitoring. It will be nice if Ray's digital switching support eventually includes device labeling — so that the screen below could maybe say "Starboard Engine Hatch Lift" instead of "Actuator" — but that seems more possible now that Edition 3.0 of NMEA 2000 (PDF) includes a standard Label message.
Raymarine's move into digital switching was particularly timely as I also got an impressive tour of BEP CZone installations in high-end production boats — some with Simrad integration, some without — and we also saw how Garmin's new 8500 Black Box has a dedicated N2K "House" port. I suspect that Miami 2013 marked a major turn in the adoption of integrated digital switching. But I digress already, and my head's still spinning from all I saw at the show. Let's take a look at what Raymarine actually announced…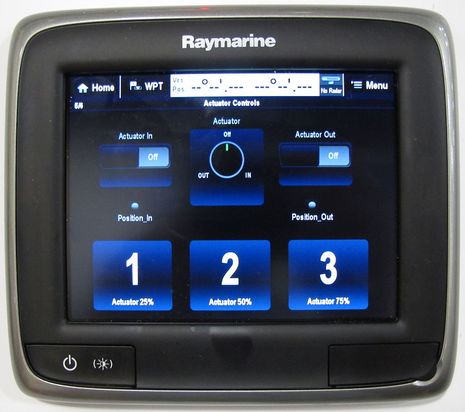 Perhaps Ray's most minor news is that there will soon be versions of the a-Series MFD seen above with WiFi built in, so that it too can be viewed and controlled with Ray's iOS and Android apps. Incidentally, since I first wrote about the a-65 and -67, I've had a chance to test one in the lab and will soon see how well it networks here on the boat in South Carolina. I still think it's a remarkable mini-MFD that will find uses on big boats, and it was interesting to learn how Raymarine took the same high-bright 5.7-inch screen in an entirely different direction with its Dragonfly Sonar/GPS. Unlike the a-Series, Dragonfly is completely unconnected — no Ethernet, no NMEA 2000, not even NMEA 0183 — and (partly as a result) it has a very simplified user interface that's quite unlike the common interface Ray has created across all the lower case alphabet series…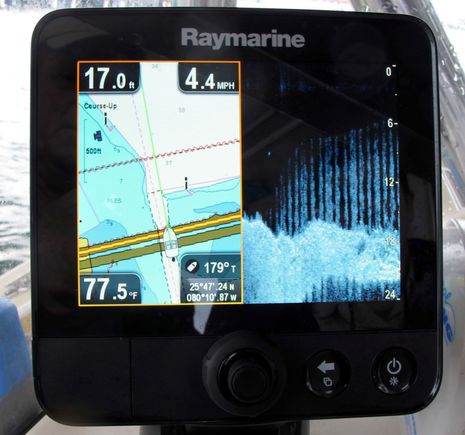 What's special about Dragonfly (besides a thankfully easy name) is that it offers regular fishfinding plus hi-res downscanning, both CHIRP-assisted, along with chart plotting all for $650 retail (that's without charts, but with Ray's unusual transom transducer). It's a unique and reasonably-priced feature bundle that just earned Dragonfly an NMMA Innovation Award from by BWI colleagues. (Charlie Doane covered the judging process on the SailFeed "blog garden" which Panbo will soon join). But it also earned an unusual amount of derision from the competition, as in "That couldn't really be CHIRP!" and "No way they can get that resolution from at 350kHz!"
However, I don't think the critics have yet seen Dragonfly in action, like I did briefly on Biscayne Bay. My photos don't do the screen justice but you can see above how the 1.4 degree downscan beam, which covers 60 degrees side to side, imaged the protective piling under that bridge…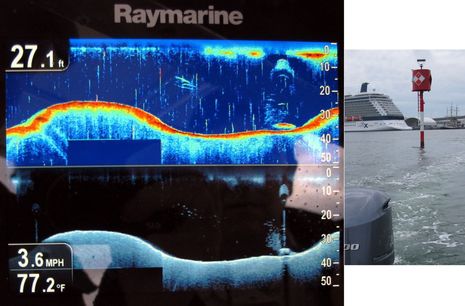 And when we motored close to that fixed nav aid seen above, downscan revealed details of its concrete base and even details of two bait fish groups that you might expect to only image with the color fishfinder's 25 degree conical beam (at 200kHz). It seemed darn impressive to me, and here's hoping that Ray's Chirped downscan can be extended into the wider side imaging I so enjoy for gunkholing…
So did Garmin and/or Raymarine know that the other was going to introduce "glass bridge" style MFDs in Miami, or were they both inspired by the Furuno TZT introduced last year? At any rate, say hello to the Raymarine gS Series. They are 9-, 12-, and 15-inch MFDs — black boxes coming? — that are like e-Series but with goodies like pinch-to-zoom multitouch and triple Raynet (Ethernet) ports with POE ready to power the IP cameras I'm sure Raymarine will offer eventually (as explained here). The gS MFDs also have an HDMI video out port and two standard video inputs. One of the latter could be used for the new T200 fixed thermal cam Ray also introduced, and which will start at $3,500…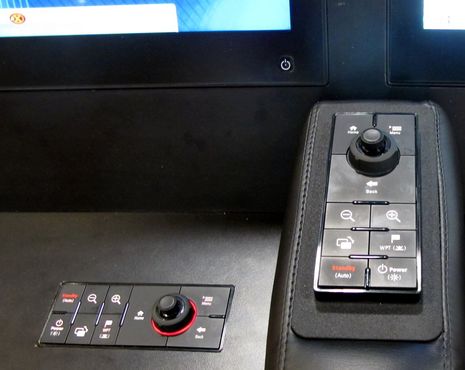 The gS Series won't be out until May and they still aren't priced, but note that the accessory keypad seen above will also work with a-, c-, and e-Series MFDs, one or many. Note too that there will be landscape and portrait versions, as seen in my show photo, and they network via Ethernet, as does Garmin's new GRID. Do we have a trend here or what?
And that's not all. The product pages aren't up yet but according to the press release the new Ray260 black box VHF will support three remote stations, includes STng/N2K system integration and will support DSC vessel plotting as well as something called Digital Voicemail "which allows a 15 second voice message to be pre-recorded and sent automatically to another DSC-equipped vessel". "It can also be used to record incoming voice messages or alerts of up to 90-seconds in length," which sounds like a desirable 'rewind' feature, and, yes, there will be a second Ray260 model with an AIS built in…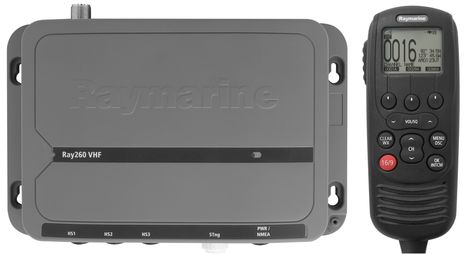 Finally, Raymarine previewed the Evolution autopilot system that will debut in June. Again only the press release is online but, holy cow, an all-in-one STng/N2K-powered 9-axis heading sensor and course computer offering "Precision monitoring of heading, pitch, roll, and yaw…dynamic accuracy to within 2 degrees in all conditions…Flexible installation…above or below deck…Automatic optimal boat response in all sea states…Selectable modes emphasize comfort, economy, or accuracy." And I'll add that discussing Evolution had one Ray manager/engineer nearly jumping up and down with excitement.
They promised they'd have a lot of interesting new products in Miami and they did not exaggerate.