Raymarine 2013 demo boat: gS165, the RMK-9 keypad & more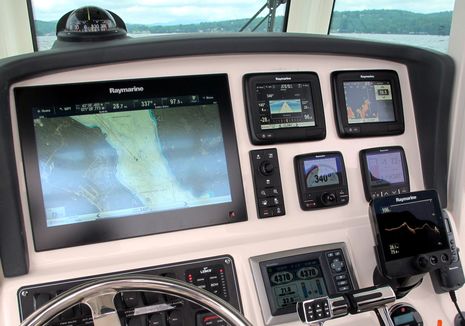 Yesterday I enjoyed a few hours on Lake Winnipesaukee, New Hampshire, aboard a Boston Whaler 280 Outrage recently fitted out as a Raymarine demo boat.  Much of what I first saw introduced in Miami last February is now shipping and working in impressive ways.  Note, for instance, how the "low end" Dragonfly sonar/plotter is holding bottom in DownVision mode at more than 106 feet and 28 knots. And if it weren't for the camera-exaggerated glare you could also see how bright and sharp the "high end" gS165 Glass Bridge display was looking.  I became particularly enamored of the new RMK-9 keypad that gave us hybrid-style control of not just the gS but also the two a6x MFDs…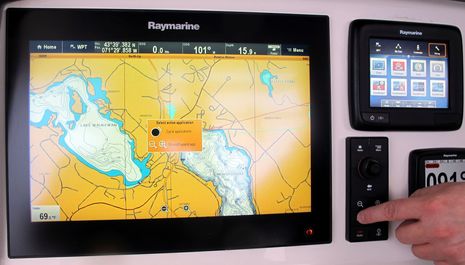 Since the install is still being fine tuned, I got to see how easy it was to go into each of the a-Series setup menus and pair it with the RMK-9 keypad. Then we could use its "Switch Active" button to flip from screen to screen, including individual windows if a screen was split. While I wrote recently about how I found even a little a65 all-touch interface quite usable on Gizmo — and about how the all-touch a Series has expanding in sizes and models — I can also picture where a keypad like this could be very useful on certain boats or helm situations.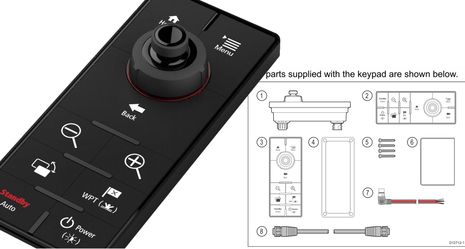 The RMK-9 is compact but still seemed easy to use without even looking at it, mainly because of the big-button style Ray has adopted in recent years. In fact, the buttons and knob/joystick UniControl array are almost a duplicate of what you'll find on MFDs like the larger e Series, though it also comes with an alternate face plate so that it can be installed in landscape mode (as I photographed in Miami and also seen in parts in the drawing above). So far the keypad is only shown at Raymarine.com as a gS Series optional feature, but it's clearly part of Ray's enormous a, c, e, and g mix-and-match game plan, as is also indicated by its clever multiple power sources.
   If you have a gS Series MFD, all it takes to wire the RMK-9 keypad for data and power is that relatively slim RayNet cable (#8 in the drawing above) because the gS has three power over Ethernet (POE) ports. If you're using a, c or e MFDs or an Ethernet switch without POE then you'll also need to use that STng style power cable (#7). I'm told that the RMK-9 retails for $249.
What's really exciting about those POE ports, I think, is the prospect of plug-and-play IP cameras that will then be accessible anywhere on the boat's a/c/e/g network.  Apparently some Axis network cameras can be set up to do that now, but it should get especially interesting when FLIR marine IP cameras emerge (as one expected result of FLIR's Lorex acquisition). Furuno deserves credit for spearheading IP cam and MFD integration, but it looks like Raymarine may take it to a new level. The new Lighthouse 7 software, for instance, supports video recording and playback on the a/c/e/g family and you can also take snapshots with the attached video camera.
   Note that the gS also supports two analog cameras, one via that big power/0183/video port at right above and the other via the light green alarm/video port. Aside from the white STng/N2K and three POE ports there's HDMI output (so you can watch those camera videos on your big TV screen, too) and an USB port that provides power and data connection to the separate twin micro SD card reader that comes with the gS.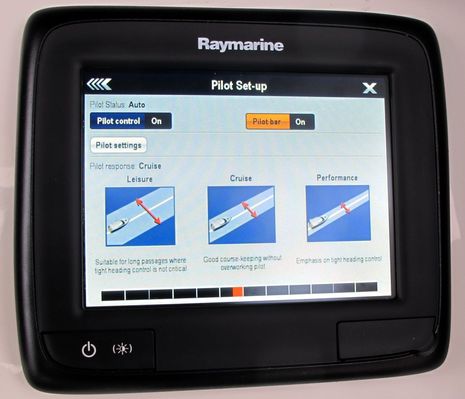 Another feature of Lighthouse 7 is MFD autopilot control that works with many Raymarine pilots. You can see the "Pilot bar" at the bottom of all three screens in the top photo. And with a new Evolution AP a dedicated control becomes an option. In fact, that Evolution setup screen on the a65 above was more informative than what could fit on the demo boat's p70R control head. But note that you will need a p70 if you want the pilot to steer fishing patterns or to a wind vane. Note too that AP control has been disabled in the RayRemote and RayControl apps, and users with only all-touch a and g Series MFDs are strongly encouraged to add something like the RMK-9 keypad with a dedicated Standby button – which all makes sense, right?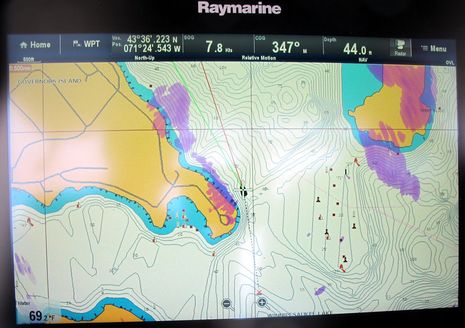 The demo boat did have Evolution installed and working with its twin Verado 250 outboards, but that demo did not go as well as it might have. Before we left the dock an enthusiastic marketing director thought it would be a neat idea to factory reset the Evo so I could see how easy it is to install. While it took only a few minutes to do the dockside setup and the AP performed pretty darn well right away, the much heralded needs-no-calibration EV sensor core did not seem to calibrate itself accurately during our short cruise. Hence, the offset between Heading and COG lines and between chart and radar overlay on the screenshot above. Apparently it had been working "perfectly" before the reset and part of the Evolution concept is that it constantly adjusts and improves itself. Besides, I've had an EV-1 sensor on Gizmo's main NMEA 2000 network for about two weeks and a hundred miles cruising and I've been very impressed with stable, accurate heading in all directions as well as stable pitch and roll info (with no setup or calibration at all).
   I also saw Evolution handle fast turns nicely and create just a slight track bump when one engine was disengaged at about 12 knots. And we did get to Lady of the Lake, a well known dive site where the Dragonfly did a nice job of imaging the 125-foot steam ship that sank in 1895. One of the crew who has dived the wreck said that there's a large hole in her deck and I kind of thought I could see it in DownVision, not to mention the fish hovering above. Let's heard it if you have questions about this new Raymarine gear, and especially if you've had more chance to try it than I had.