More Garmin, and a mouse with MOB button!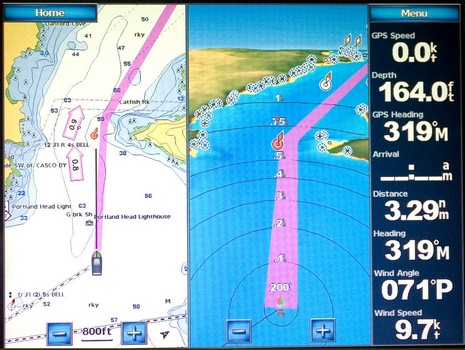 Here's an entering Portland, Maine, screen photo, bigger here, designed to make a few points re: our discussions of the Garmin Guide To feature and the way the big units display data. This is a Combinations screen and it can have one to four windows with most anything in them, plus the Data Bar if you want. Unlike the largely pre-configured dashboard style data on a regular chart window, you can put any number in the system on that bar. On the 5212, you just touch the field to get list of choices; on the 4000 series you just punch one of the softkeys.

It's pretty slick, though I noticed today that you can not tell if that's True or Apparent Wind, unless you remember how you set it in the System menus. (I'd guess that Garmin is trying to keep data descriptions brief as they are translated into many languages.) A neat thing about Combinations on the 5000 Series is that if you touch either of those windows outside the zoom keys, it goes full screen until you're done with it.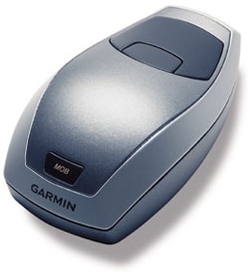 As for Guide To, here's plain evidence that it does not factor in buoys, as in Red Right Return. The purple path gives the ledges off that point a reasonable berth but cuts inside the Red Bell carefully placed there to assure your safe passage around them. I've seen this enough in Guide To to be 95% sure that buoys just aren't used in the algorithm. This may vex some navigators, but remember that Guide To is just a suggestion. I still like the purple path, especially in 3D. And how about Garmin's RF Mouse as an alternate control for the touchscreen 5000's? It was just quietly introduced (though picked up by HardWired) along with a Remote Control that will apparently also work with the 4000 series. Hey, isn't that an MOB button on the mouse? The phrase "We aren't in Kansas anymore, Toto!" comes to mind…but this thing is from Kansas.