More marine POI review sites, will one dominate?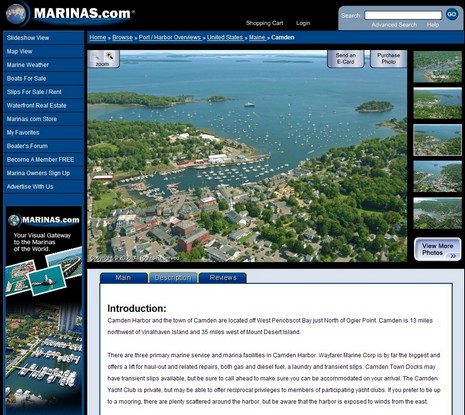 If you followed my PS's to the ActiveCaptain entry, you know that the site got quite a drubbing on certain forums and newsgroups, much to the amazement of people like me who actually know AC's proprietors. Oy! But those threads did lead me to check out some other sites that allow cruisers to create/review POIs for each other. I was somewhat familiar with Marinas.com, but didn't realize that it has by far the best aerial photography of my homeport I've seen anywhere, in fact great photography of ports and lighthouses all over the planet. Registered users can write reviews of marinas but there's no way to correct marina data, which is too bad as a lot of it is flawed. For instance, the flat statement that "The Camden Yacht Club is private, but may be able to offer reciprocal privileges to members of participating yacht clubs" is flat wrong; the Club is welcoming to all cruisers.
SkipperGuide is quite the opposite of Marinas.com; it's very light on content, so far, but users can potentially add almost anything they want, in "wiki" fashion (which it is). In fact, it's possibly too ambitious; whereas SkipperGuide attempts to cover the whole world of cruising, starting without even a flawed database, it's going to take a lot of user input to make it seem at all useful. Check out Annapolis, for instance. On the other hand, this site—like the interesting online waypoint, and more, manager POI66–integrates with Google Earth. Are there other sites like this? Will one become the "ebay/Amazon" of marine POI reviews?