My Pebble, more PAN in Panbo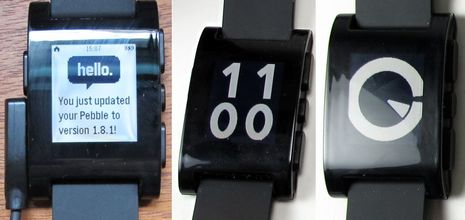 I've been waiting so long that disappointment loomed large. It was mid-April last year when I became a Kickstarter 'backer' in the Pebble E-Paper Watch for iPhone and Android, which really just meant that I might get a good deal by buying one upfront for delivery the following September. But I wasn't the only geek who thought they'd sniffed out a bargain. Though Pebble's Kickstarter goal was only $100,000, almost 69,000 backers sent them over 10 million dollars! Which was neat in the sense that the Pebble people could then make the watch waterproof and add other features, but not so great in that suddenly they had a LOT of watches to build, which took much longer than 'estimated'. However, I've been smiling about Pebble ever since I opened my mailbox last week and found the box with "It's Time" printed on it in large, ironic type…
It took just a few minutes to download the Android version of Pebble's control app and pair the watch with my Verizon Galaxy Nexus phone. The first thing the app did was to (very quickly) update the watch's software, as indicated at left in the photo above (where you can also see the magnetic USB cable used to top up its battery). Then the watch synced to the cell's highly accurate time and was actually ready to go, except that I also found it very easy to install some "Watch Apps"…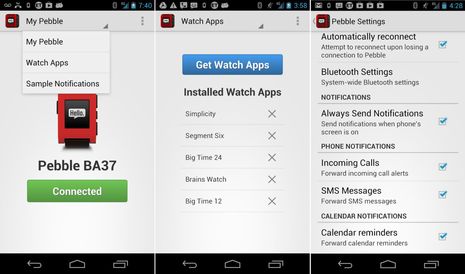 The screens above are all from the My Pebble app and that middle screen shows Watch Apps I've already installed (and can instantly uninstall by tapping on the "X"). At this point the apps are all alternate watch faces, but Pebble claims that complete control of the device is available to third-party developers. Time will tell, so to speak, but I already appreciate two extra watch faces, Big Time 24 — which is showing 11am in the top photo, and will be good for night navigation — and the totally graphic Segment Six, showing about quarter after four (and appealing to my soft, artistic side ;-). While the four-button interface on the Pebble makes it easy to switch apps, all that may seem trivial when you realize what's possible on the Pebble Settings screen (at right above)…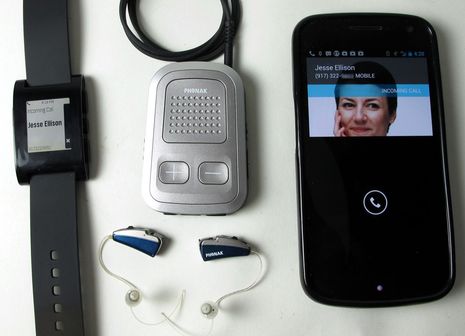 Yes, indeed, the Pebble can tell you who's calling when your phone is in your pocket and can even let you read full text messages and partial emails on your wrist. This is particularly valuable to me as I regularly use a fairly exotic Bluetooth headset — the pair of Phonak hearing aids seen above, which I enthused about in early 2011. The Phonak ComPilot phone interface I upgraded to last year has been a nice improvement for its longer battery life plus volume and "mode" controls, but its ability to verbalize Caller IDs doesn't work with the Nexus phone and I doubt it would be fast enough anyway.
So I'm very happy to report that the Pebble fit into this system perfectly. Both accessories automatically Bluetooth to the phone without issue and now when I get a call I can glance at my wrist to see who it is before pressing (or not pressing) the big button on the ComPilot to answer. And when I get back on the boat next week, the phone will usually be further away than my pocket, safely in a booster cradle with power cable attached. And that's not all, not by any means…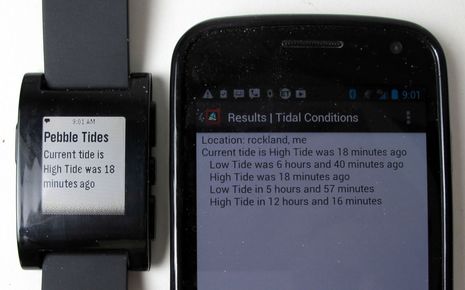 There's another level of Pebble apps that don't load into the watch but instead stand alone on the phone and send it data. There's not many of those yet either, but Pebble Tides strikes me as good sign of things to come. Well, actually it's somewhat pointless now as you have to ask the app each time you want a prediction on the watch, and the app shows more, but if the developer let's you, say, get an automated time and tide level notification an hour before, or right at, each high and low, that would be nice.
In fact, this little network of devices I now wear is beginning to feel like a real Personal Area Network (PAN), which reminds that one possible meaning of "Panbo" — Yme never told me — is Personal Area Network BOat. And the extended PAN seen below — all of which can fit in my cargo pants, though it's not a good look — suggest where personal networking can go. I showed the Pebble to a friend who works at DeLorme today and, boy, did his wheels start turning about the possibilities of using it for inReach messages and even control, either via a phone or direct over Bluetooth. Inexpensive Iridium satellite messaging right to your wrist…could Dick Tracy have imagined? Plus I was pleased to learn in Miami that the Bad Elves are working on NMEA interfaces that will let the already useful Bad Elf Pro stream boat data over Bluetooth. Is there any reason that a Pebble couldn't eventually do much of what Garmin's highly desirable Quatix does?
Now do note that the Pebble is apparently not yet working as well with iPhones, as detailed in this thorough Slash Gear review, and that there are other 'watches' with similar features out there, like Sony's touchscreen SmartWatch and the MetaWatch. Plus Apple is purportedly working on an iWatch (name still a guess) that has iOS completely built in. But while connected watch choices seem about to happen in a big way, this not-as-early-as-he-wanted adopter is quite happy with his Pebble.