SeaNav app, now with AR, GoFree, and Pebble!
Getting True Wind to my wrist was actually easy, especially considering the complex path it traveled. The raw Apparent Wind readings originated in a Maretron WSO100 on Gizmo's masthead and then went to a Simrad NSS8 MFD via NMEA 2000, where it was combined with other N2K data like COG, SOG, Heading and/or STW (depending on which True Wind ;-). The NSS8 then sent the data out using the NMEA 0183 tier of GoFree over WiFi, where it was captured by the SeaNav 2.0 charting app running on an iPad, which then passed it along to my Pebble watch over Bluetooth! It sounds crazy, but when everything is working right, it's as simple as turning on the boat system and opening SeaNav, which has many other features to appreciate…
SeaNav and GoFree both support Apple's Bonjour discovery protocol, which meant that all I had to do to start was put the iPad on the boat's GoFree WiFi network and enable GoFree in SeaNav. SeaNav discovered the NSS8's data without having to specify an IP address — including its custom descriptive name "NSS-low-helm" —  and the next time I went aboard and turned things on "it just worked". This is particularly relevant because NMEA's coming OneNet standard will include both Bonjour and the similar Simple Service Discovery Protocol (SSDP). So the reliable and nearly automatic integration of SeaNav and the NSS8 is hopefully coming to many apps and marine electronics systems.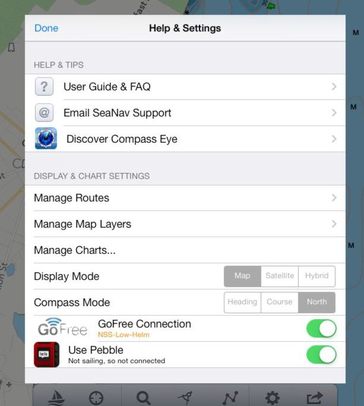 The Pebble connection was just as smooth and easy (most of the time), and given the predicted explosion of smartwatches, may be a similar sign of future boating. The first time you enable the feature in SeaNav, you're asked to download their Pebble SeaNav app and install it using the Pebble Smartwatch app most owners will already have installed on their iPhone or iPad. Once that's done, every time you put SeaNav in 'Sailing' mode — which is akin to activating a route or go-to waypoint — the Pebble starts showing a family of screens that vary according to what extra data the app is getting from GoFree or from its sister Web AIS app Boat Beacon. Unfortunately, a recent Pebble update intended in part to improve iOS integration actually messed it up, but I'm sure that will be fixed soon. There's more on the Pebble connection below, but let's have a look at what SeaNav can do by itself first.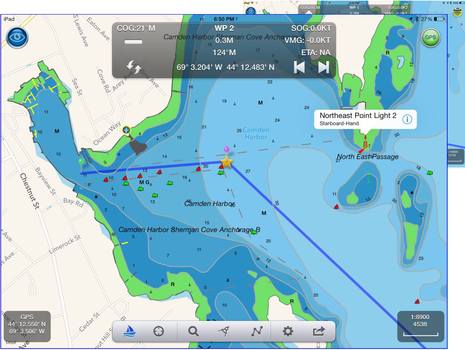 The screen above shows SeaNav in Sailing mode with the second waypoint in the route selected, which is why it's marked with a star. If I'd been moving instead of standing over near the old steamer wharf (long gone but still charted), the nav bar would also show a big steer-to arrow and note the nice control for stepping to another waypoint, if you don't want to wait for an automatic switchover. When I first began testing SeaNav last summer its rendering of NOAA ENC (vector) charts was rough and slow, but now I think they are some of the best looking ENCs around, and the speed is improving with each update. Note that peeking out from behind this iPad AIR screen is a similar one made on my iPad mini; the resolution difference is amazing. Note, too, that I have tapped on the Northeast Point Light and can either tap again for more information or get a "visual" on the light by next tapping on the AR (augmented reality) eyeball icon…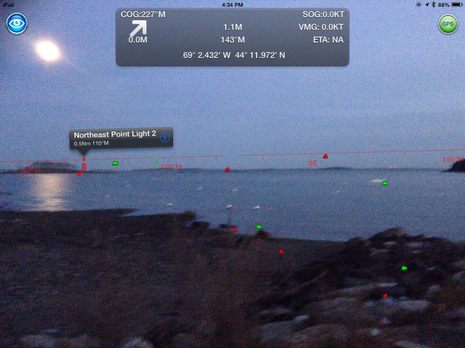 In fact, if Northeast Point Light wasn't in sight when I held the iPad vertical, SeaNav would have shown a left or right arrow to help me find it. It also could have drawn the activated route line over the camera image, and if you're not searching for a particular object, it will pop up info on objects that appear center screen as you scan the horizon. SeaNav developer PocketMariner got a lot of AR experience with its first navigation app, Compass Eye, and it shows. I also think that the various bearing and attitude sensors built into tablets and smartphones these days are getting faster and more accurate and the cameras are also improving, all of which is critical to AR that works well. (And the M7 motion coprocessor is one reason why it seemed wise for Panbo to get its new ad manager an iPad AIR, which I can also use for app testing; the screen above was taken with the iPad mini, but I'll try it with Air when the weather permits.)
   At any rate, SeaNav is now an able charting app for U.S. waters that offers an interesting augmented reality feature and can also integrate with the Boat Beacon Web AIS app that first alerted me to Pocket Mariner's innovative ways.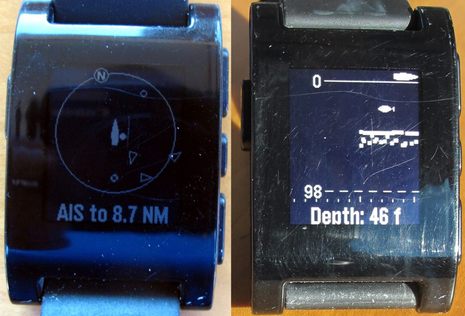 But I want to finish with some more on what SeaNav and the Pebble can do. Yes, that's an auto-scaled AIS target plot on the watch face at left, and the data can come to SeaNav either from the GoFree system or from BoatBeacon, which can be getting it online via cellular and/or from your boat's conventional AIS receiver or transponder via WiFi and a TCP connection (be it GoFree or many others). And an AIS CPA (Closest Point of Approach) warning will set off the Pebble's vibration feature (a silent but effective alarm that is one reason I wear the Pebble constantly). The little fishfinder face — which could be very useful to cruisers, too — does require a GoFree connection, but there are also various navigation screens that only need the SeaNav app to work.
  The iRegatta sail racing app also offers a Pebble extension now, and note that they're promising an Android version soon. I'm sure we'll be seeing more smartwatch apps like these. Are you interested?