NN3D & N2K, sweeeet!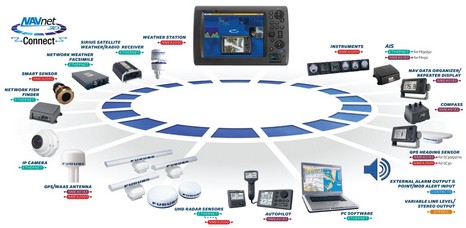 Yes, a first look at Furuno's NavNet 3D had me burbling "incredibly sexy"—and I will explain that!—but today let's talk about how thoroughly the 3D system embraces NMEA 2000. For starters there's a standard N2K connector on each of the three NN3D displays, and the Product Guide lists lots of specific standard PGNs they can input and output (so there should be no Garmin-type data surprises). Now check out a bigger version of the NN3D "building blocks" diagram above to see how many N2K sensors Furuno itself is offering. Besides the FI-50 instruments already discussed, there's an interesting N2K SC-30 GPS Heading Sensor (said to be reasonably priced and very accurate), an N2K Weather Station, an N2K Smart Transducer, and an N2K GPS.
Now at least a couple of those are obviously rebranded Airmar products, but note too the odd "Ethernet…dotted line…NMEA 2000" label on the UHD Radar Sensors (mentioned yesterday). You see each of those scanners has an N2K connector on it, able to both power any of the Furuno N2K sensors and take their data, packetize it onto NavNet, and deliver it around the boat (and beyond, if and when Furuno decides to extend NavNet like, say, N2KView). The sensor data coming through the radar scanner is available to any manufacturer's N2K device via the NN3D display's port, and I'm told that any N2K data, even proprietary PGNs, going into that port is put onto NavNet. The installation possibilities are pretty amazing. Like radar, weather, and GPS from an antenna mast with only one power cable and one Ethernet cable. At any rate, Furuno may be one of the last of the big marine electronics manufacturers to adopt NMEA 2000, but, man, didn't they!